Zayed Sustainability Prize hosts workshops for Global High Schools category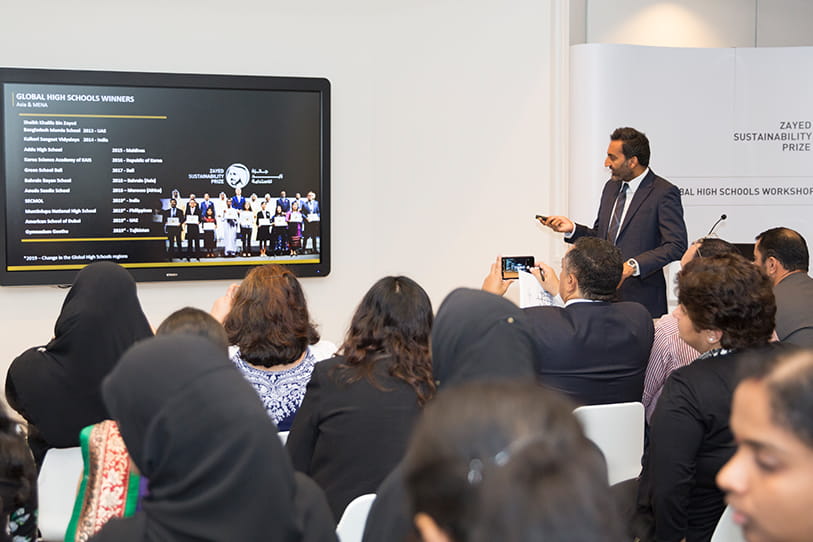 28 April 2019
Share article
As part of the Zayed Sustainability Prize's outreach programme, three workshops were held from 28th– 30thApril, in the Emirate of Abu Dhabi, with high schools from across the UAE in attendance.
Hosted in collaboration with the UAE Ministry of Education and the Environment Agency Abu Dhabi (EAD), the workshops aim to help potential entrants understand the process for participating in the Global High Schools category of the Prize. The three workshops were held over three days starting in Masdar City (28th), then Al Ain (29th), and concluding in Al Dhafra (30th).
Recognising that young people are a crucial driving force for future sustainable development, in 2012, the Prize introduced the Global High Schools category and has since awarded 35 winning schools from regions all around the world. The six world regions are: The Americas, Sub-Saharan Africa, Middle East & North Africa, Europe & Central Asia, South Asia, and East Asia & Pacific.
The Global High Schools category awards each winner up to US$100,000 to help develop sustainability projects that impact their school or their local community. In the seven years since the category was included, the impact of these winners has resulted in:
- 4.2 million KWh (kilowatt hours) of renewable energy generated
- 3,400 tonnes of carbon emissions offset
- 390 KW (kilowatts) of solar panels, biodigesters, and wind turbines to be installed in schools
- 350,000 people positively impacted by the winners' projects
The goal of the Zayed Sustainability Prize Global High Schools category is to recognise and empower youth to reach their full potential and become the next generation of global sustainability leaders.