Zayed Future Energy Prize Winners Highlight Impact of Award at the UAE Embassy in Washington, D.C.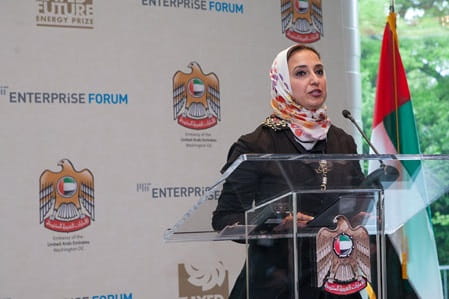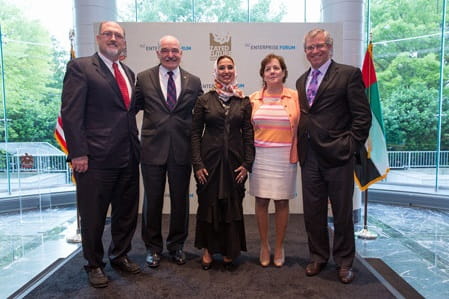 29 May 2013
Share article
Abu Dhabi-UAE: 29 May 2013 – Former recipients of the Zayed Future Energy Prize highlighted how the Prize has catalyzed their work in renewable energy and sustainability at a reception hosted by the Prize, in partnership with the MIT Enterprise Forum, Inc, at the UAE Embassy in Washington, D.C.

Winners, d.light design (2013 SME category), Ceres (2013 NGO category), and the Environmental Defense Fund (2012 runner up NGO category, shared their plans for their respective prize winnings with over 150 industry experts, policy makers and academics.

The reception was part of the Prize's outreach campaign in the United States and was inaugurated with a keynote speech by Vice Admiral Dennis V. McGinn (USN, ret.), president and chief executive officer of the American Council On Renewable Energy (ACORE), His Excellency Omar Al Shamsi, deputy chief of mission at the UAE Embassy in Washington D.C. welcomed guests on behalf of the embassy. Dr Nawal Al-Hosany, director of the Zayed Future Energy Prize addressed attendees on its mandate and objectives – emphasizing that the platform forms part of a larger initiative of the UAE government to catalyze innovation in renewable energy and sustainability. The reception also featured video highlights of previous award ceremonies.

"The impact that the Prize has on winners and through them on communities across the globe is steadily growing," said Dr Sultan Ahmed Al Jaber, director general of the Zayed Future Energy Prize. "It is a great affirmation to watch the Prize achieve its catalytic objectives by rewarding those who have achieved great successes through innovative technologies and solutions, advocacy and policy work or social development programs.

"One of the key drivers of success for the Prize is the unwavering support it receives from the wise UAE leadership – who established the Prize to honour a legacy left behind by the nation's late founding father Sheikh Zayed bin Sultan Al Nahyan. Through the years, the UAE embassy in Washington has been a great supporter of Masdar and its various initiatives," added Dr Al Jaber.

"We are confronted with the simultaneous, urgent and intertwined challenges of meeting growing global energy demand, improving economic growth and quality of life, and addressing the threat of climate change. To do this effectively, we must discover more innovative and sustainable ways to provide affordable, accessible energy to all seven plus billion inhabitants of planet Earth," said Vice Admiral McGinn. " ACORE salutes the Zayed Future Energy Prize for recognizing the leaders who are already making a positive difference, developing less carbon-intensive energy resources and creating a more secure, prosperous and sustainable future for our world."

During the reception, d.light design announced it will donate a portion of its US$ 1.5 million prize fund towards an educational initiative on renewable energy and sustainability among underprivileged children in Africa. Donn Tice, Chairman and Chief Executive Officer, d.light design, explained that the awareness offering for schools will include lesson plans, teacher aids, education kits, and children workbooks among other tools. In addition to classroom intervention, a combination of online/digital components (mobile education, radio, tablets, online games) will be used to motivate the future generation towards sustainability.

Eric Pooley, senior vice-president for strategy and communications at New York based Environmental Defense Fund (EDF), announced that EDF has strengthened its work in policy and advocacy for energy efficiency, smart grid and renewable energy in several states across the US, since winning the US $ 500,000 prize in 2012.

Mindy Lubber, president and chief executive officer, Ceres stated that winning the prize US $ 1.5 million earlier this year has enabled Ceres to expand and strengthen its advocacy and policy work on environmental, social and governance disclosure in the finance and insurance sectors and within the Ceres network of companies. The company's Investor Network on Climate Risk has recently engaged with five key stock exchanges, including Nasdaq-OMX on a sustainable listing standard for stock exchanges.

As part of the delegation's visit to Washington, Dr Al-Hosany participated in a panel discussion titled 'How do you get to be the most energy efficient economy in the world' at the sixth annual Energy Efficiency Global Forum 2013 (May 20 – 21) in Washington, DC. The event was organised by Alliance to Save Energy, a nonprofit coalition of business, government, environmental, and consumer leaders.

The visit to Washington is part of the Prize outreach initiative to the cleantech industry and high schools in the United States, to increase the quality and number of submissions for the 2014 edition. The Prize has also recently marked participation at the Bloomberg New Energy Finance Summit in New York, the National Science Teachers' Association Conference in San Antonio, Texas, and the Cleantech Forum in San Francisco,

The Zayed Future Energy Prize is a US$4 million prize awarded annually to companies, schools and individuals that have made significant contributions to the future of energy, sustainability and climate change. In five years, the Prize has recognized 21 innovators and impacted communities across the world.

Submissions for the sixth edition of the Prize opened on 4 March, 2013 and will close on 5 August, 2013. Winners will be announced at the Zayed Future Energy Prize awards ceremony scheduled for 20 January, 2014 as part of the annual Abu Dhabi Sustainability Week.