Zayed Future Energy Prize Educates Young People about Sustainability at Think Science Fair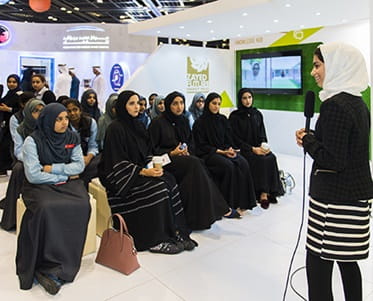 17 April 2016
Share article
Zayed Future Energy Prize Educates Young People about Sustainability at Think Science Fair

Young-Emirati inventor Fatima Al Kaabi joins Prize to help raise awareness

Dubai, UAE, 17 April 2016 – Young people from across the UAE have been given an insight into how much energy it really takes to power their everyday lives, at the Think Science fair in Dubai, today. In a drive to increase high school student participation in sustainability projects, the Zayed Future Energy Prize provided young people with two interactive activities that showcase the true cost of energy generation through exercise. The activities offered young people the opportunity to learn about sustainability through fun and educational hands-on experiences.

Dr Nawal Al-Hosany, Director of the Zayed Future Energy Prize, said "Giving young people these learning opportunities helps provide them with the tools to be future innovators and go on to educate others about the importance of sustainability in their own lives. The Zayed Future Energy Prize is committed to empowering young people to think and act sustainably, through innovation and learning. This is why our Global High Schools category encourages schools to develop their own sustainability projects."

Joining the Zayed Future Energy Prize at the fair to motivate her high school peers to undertake sustainability projects, was the young Emirati innovator, Fatima Al Kaabi. A recipient of the UAE Pioneers Award, a gold-medallist in the UAE Robot Olympics and a winner of the Zayed Future Energy Prize #YTurnItOff campaign, Fatima's inventions include a printer for those with sight problems, a solar bag that can charge electronic devices and an electronic belt for those with impaired hearing.

"I have been always been inspired by innovation and I was excited to be with the Zayed Future Energy Prize at Think Science – a prize that has always given young people like me the opportunity to learn about sustainability and innovation. My aim was to talk to as many young people as possible and inspire them to go back to their school and think about how they can encourage their school to enter the prize."

To date, The Zayed Future Energy Prize has awarded 14 schools in the Global High Schools category. A winner from the Asia region in the category's inaugural year was the UAE's own Sheikh Khalifa Bin Zayed Bangladesh Islamia School in Abu Dhabi. In 2013, the school was awarded funding to undertake the installation of solar panels that power all its lights and reduce its energy consumption by approximately 15 per cent. The school is now in the process of implementing the project's second phase – a rooftop wind tower that will provide energy-free, passive cooling and act as a demonstration model for its students.

The Global High Schools category was introduced in 2012 as a commitment to the UN's Sustainable Energy for All initiative and its three 2030 objectives: Ensure universal access to modern energy services; double the global rate of improvement in energy efficiency; and double the share of renewable energy in the global energy mix. Winning projects in the category have alone resulted in a reduction of more than 1,000 tonnes of carbon emissions, benefitting 37,000 people in the surrounding communities.