Zayed Future Energy Prize Holds UAE Book Launch of 'The World We Made'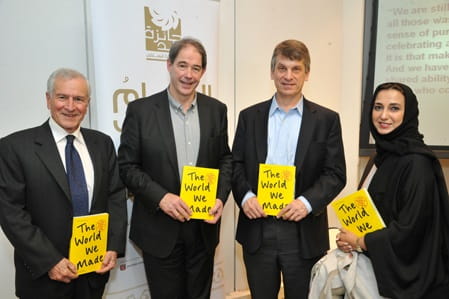 29 October 2013
Share article
Prize Selection Committee Member and Author Jonathon Porritt Launches Book at Masdar Institute

Abu Dhabi-UAE: 29 October, 2013 – Zayed Future Energy Prize held the UAE book launch for 'The World We Made', a part-history, part-personal memoir authored by Jonathon Porritt, eminent international environmentalist, Founder Director and Trustee of the Forum for the Future. He is also a Selection Committee member for the Zayed Future Energy Prize.

Held at the Masdar Institute Auditorium, the launch was followed by a panel discussion on the book. Co-panelists were Dr Fred Moavenzadeh, President, Masdar Institute of Science and Technology; and David Sandalow, Inaugural Fellow, Center on Global Energy Policy, Columbia University and member of the Zayed Future Energy Prize Selection Committee

'The World We Made' is set in 2050 and presents a compelling narrative through the eyes of a history teacher on how the world could look four decades on, if we play our cards right. Based on extensive factual research, the book examines how technological innovations and lifestyle revolutions transform the world to place renewable energy and solar-powered electricity at its core, creating a truly vibrant sustainable world. The book's innovative ideas are brought to life with futuristic photographs, infographics and hand-drawn sketches, while an extensive index provides the tools and tips needed to prepare for the future.

Dr Sultan Ahmed Al Jaber, director general of the Zayed Future Energy Prize said, "Porritt's book indicates a strong hope for the future, even as we face escalating energy and resource demand. However, governments have an important role to play - we need strong political leadership and will to support the integration and adoption of sustainable sources of power."

"The UAE leadership was among the early adopters of renewable energy and have undertaken tremendous effort to support and fund renewable energy projects beyond the UAE, in the UK, other parts of Europe and to developing countries," continued Dr Al Jaber.

"The Zayed Future Energy Prize is one such initiative. By recognizing and more importantly, funding the most innovative clean technologies and solutions, the UAE is helping catalyse the renewable energy sector as we move toward a better, more sustainable future for us all," added Dr Al Jaber.

Tackling the theme of the book, panelists discussed the role of technology in creating a sustainable world and focused on the most promising technologies in renewable energy and alternative power. The participants debated on how quickly these technologies could make a difference to people's lives and the political and regulatory interventions needed for maximising impact.

Jonathon Porritt said: ""As a member of the Selection Committee of the Zayed Future Energy Prize, I have great respect for the way Abu Dhabi's leadership has recognized the critical significance of renewable and sustainable energy to the future of our planet. 'The World We Made' is a celebration of all those innovators, entrepreneurs, designers and engineers who are so powerfully pointing the way to a more sustainable world. It is, therefore, a real pleasure to be launching The World We Made here at the Masdar Institute in Masdar City, which is widely acknowledged as a world-class example of sustainable design and construction in the built environment."

Dr Fred Moavenzadeh said: "At Masdar Institute, it is our constant endeavour to drive interdisciplinary, collaborative research and development capabilities in advanced energy and sustainability. Books like this one send out the positive message of how sustainability is just as achievable and tangible as any of life's dreams. With some effort and political will at leveraging renewable energy for greater good, today's dream could well be tomorrow's reality."

Launched in 2008, the US$4 million Zayed Future Energy Prize is an annual award that recognises excellence in renewable energy and sustainability. In five years, the Prize has rewarded 21 individuals, organisations and schools that have made significant contributions to the future of energy, sustainability and climate change. The Prize is awarded in five categories – large corporation, small and medium enterprise, non-governmental organization, lifetime achievement and global high schools.

Winners of the Zayed Future Energy Prize 2014 will be announced at a special ceremony scheduled for 20 January, 2014, as part of the annual Abu Dhabi Sustainability Week.