Siemens and Fraunhofer Call for Zayed Future Energy Prize Submissions as Deadline Approaches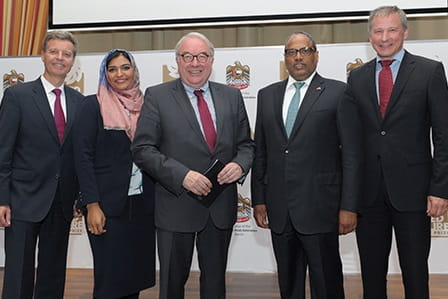 04 June 2015
Share article
Abu Dhabi, UAE, 4 June 2015 – Siemens, the global technology powerhouse, and Fraunhofer Institute for Solar Energy Systems ISE, the largest solar energy research institute in Europe, urged corporations, enterprises, non-profit organisations, and high schools to submit for the 2016 Zayed Future Energy Prize ahead of the impending June 22 deadline, at a reception hosted by the UAE Embassy in Berlin.

The event, attended by German Parliamentary Secretary of State for Economic Affairs and Energy, His Excellency Uwe Beckmeyer, was held in honour of German-based Siemens and Fraunhofer ISE, winners of the 2013 and 2014 Zayed Future Energy Prize respectively.

Addressing guests at the UAE Embassy in Berlin, UAE Ambassador to Germany, His Excellency Juma Mubarak Al Junaibi said: "The attributes of innovation and leadership, demonstrated so clearly by Siemens and Fraunhofer ISE, serve as an inspiration and guide to strengthening the UAE and Germany's strategic partnership. I am confident that many more businesses, social entrepreneurs and high schools based in Germany will follow their lead."

His Excellency Parliamentary State Secretary Beckmeyer added his support, stating: "The presentation of the Zayed Future Energy Prize today in Berlin is a good example of the growing cooperation between our countries. We fully support the prize's objective seeking to catalyse innovative solutions to create a sustainable energy future. Germany as a technology leader therefore welcomes entities operating in clean energy and technology as well as high schools eager to confront the issue of climate change to enter the prize prior to the June 22nd close of submissions."

Siemens was awarded the 2013 Zayed Future Energy Prize in the Large Corporation category, receiving recognition as a leading global provider of renewable energy and clean technology solutions; Siemens' innovative products and services have prevented more than 300 million metric tonnes of carbon emissions since 2011. The company's regional Middle East headquarters is located in Masdar City, Abu Dhabi's living ecosystem for innovation and sustainable development.

Speaking on behalf of Siemens, Senior Vice President and Head of Government Affairs in Berlin Dr Udo Niehage said: "Winning the prestigious Zayed Future Energy Prize in 2013 is a testament to Siemens' leadership in environmental research, innovation and development. We are proud of this achievement and the public recognition for all Siemens employees around the world who ensure our place as a trusted partner in so many industries. Siemens urges organisations positioning sustainability and innovation in future energy at the forefront of their businesses and operations to submit for the prize."

The European solar energy research institute, Fraunhofer ISE was awarded the 2014 Zayed Future Energy Prize for its ground-breaking research in photovoltaics, solar thermal, renewable energy generation and energy efficiency.

Fraunhofer ISE has established the Fraunhofer Zayed Programme, named in honour of Sheikh Zayed bin Sultan Al Nahyan, God bless his soul, to allocate the US$1.5 million funds awarded for winning the Non-Profit Organisation category as seed money to projects that supply sustainable energy in countries that have yet to embark on an energy transformation. The funds have been matched by Fraunhofer.

Dr Werner Platzer, director of the Solar Thermal and Optics Division at Fraunhofer Institute for Solar Energy Systems, remarked: "As an expression of appreciation to the Zayed Future Energy Prize and the legacy of Sheikh Zayed, the Fraunhofer Society recently launched the Fraunhofer Zayed Programme as a vehicle to make financial contributions to projects enabling countries to transition to sustainable energy systems. We support the prize's mission to catalyse the growth of renewable energy and clean technology and encourage other organisations to submit entries and have the opportunity to reap the benefits of the prize's support and global recognition."

Submit entries for the 2016 Zayed Future Energy Prize online before 22 June 2015 by visiting www.ZayedFutureEnergyPrize.com.