SELCO Foundation's Renewable Energy Solutions Help Last-Mile Communities in India Prosper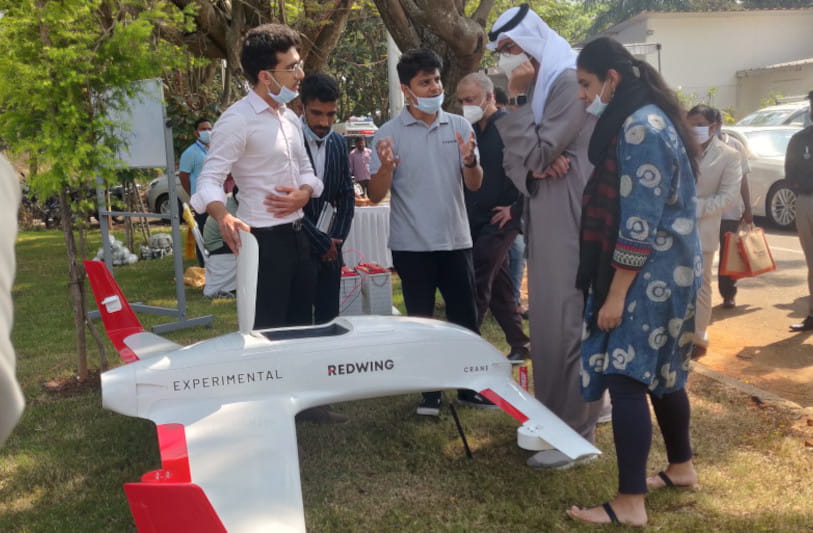 27 March 2023
Share article
His Excellency Dr. Sultan Al Jaber, UAE Minister of Industry and Advanced Technology and Director General of the Zayed Sustainability Prize, visited the SELCO Foundation, a 2018 Zayed Sustainability Prize winner and India-based nonprofit organisation on 7 February 2023. The visit was part of H.E. Al Jaber's tour of India and took place at the Karnataka Power Corporation Limited (KPCL) Hospital in Yelahanka, Bengaluru. H.E. Al Jaber's trip to India marks his first international visit as President-Designate for COP28 UAE.
Harish Hande, Founder of SELCO, and Huda Jaffer, Director of SELCO, led the delegation on a tour of the specialty care hospital, where H.E. Al Jaber was given demonstrations of SELCO Foundation's work in the healthcare, agriculture, and micro-business sectors.
The visit by H.E. Al Jaber highlights the importance of renewable energy in solving livelihood challenges and enhancing the wellbeing of marginalised populations and reflects the UAE's commitment to supporting sustainable development in India and around the world. SELCO Foundation's work in this area has received recognition from the Zayed Sustainability Prize, the UAE's pioneering global award for recognising excellence in sustainability and continues to make a significant impact in India.
One of the demonstrations included a micro business station showcasing SELCO's solar-powered pottery wheel, which reduces manual labor and improves productivity for artisans. In the area of food processing, SELCO showcased its renewable energy-powered roti rolling machine, which supports more efficient and healthier food processing practices. SELCO also presented its solar-powered milking machine and solar-powered hydroponics, which enable farmers to operate more efficiently, safely and sustainably.
In the area of healthcare, SELCO demonstrated its renewable energy-driven technologies in maternal and neonatal health, immunization, and primary healthcare. The tour concluded with a visit to the Redwing Labs-designed drone, which enables access to healthcare in hard-to-reach areas in a timely, effective, and affordable manner.
SELCO Foundation noted that thanks to the Zayed Sustainability Prize funding, they were able to invest in and test these innovative solutions, which have, to-date, positively impacted 36 million people.
Harish Hande said: "We were honoured to host His Excellency Dr. Sultan Al Jaber and his delegation. H.E. Al Jaber has been playing a leadership role on sustainability issues since long before they became part of the global agenda. We were delighted to show him the pioneering strides SELCO Foundation has made towards advancing the adoption of clean energy and sustainable development for the poor, particularly since winning the Zayed Sustainability Prize five years ago."
Indian organisations and schools have a track record with the Zayed Sustainability Prize, with many quality winners recognised. In addition to SELCO Foundation, past organisational winners include 2022 winner S4S Technologies, a small and medium sized enterprise (SME) founded in 2008 committed to improving malnutrition in children, decreasing food waste, increasing farmers' incomes, and empowering rural women; 2014 winner Abellon Clean Energy, an SME founded in 2008 whose principal activity is the manufacture and sale of biomass pellets made from agricultural and sawmill residues that are sourced from local farmers; and 2010 winner International Development Enterprises India, a social enterprise dedicated to providing long-term solutions to poverty, malnutrition, and hunger.
Two Indian high schools have also won the Global High Schools category, including Students' Educational and Cultural Movement of Ladakh in 2019 and Kalkeri Sangeet Vidyalaya in 2014.
The Zayed Sustainability Prize is currently open for submissions for its 2024 cycle. Submissions will be accepted until 2 May 2023 through the Prize's online portal. Small to medium enterprises, nonprofit organisations and high schools with sustainability solutions are invited to submit an entry for consideration in one of the five categories of Heath, Food, Energy, Water and Global High Schools.