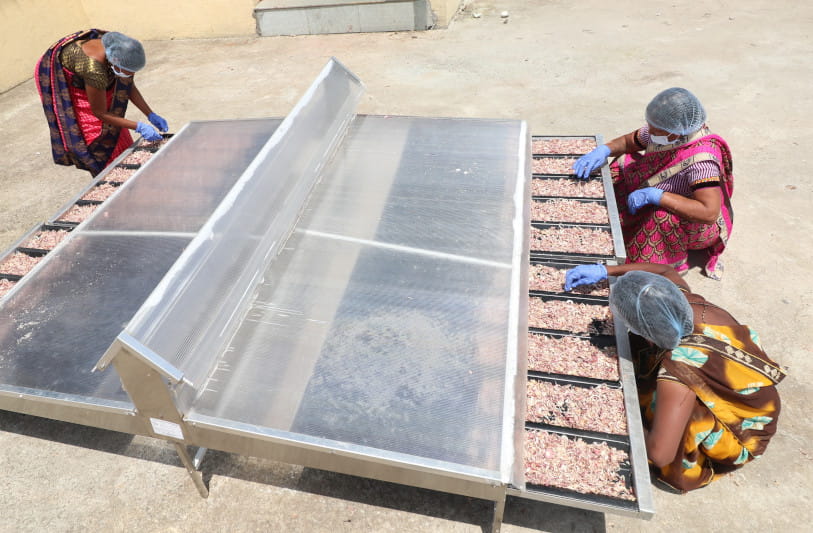 by Dr. Lamya Fawwaz, Director of Zayed Sustainability Prize, and Nidhi Pant, Co-Founder of S4S Technologies

A small but growing group of landless women farmers in India are defying traditional gender roles and overcoming societal barriers.

Thanks to the Indian-based organisation Science For Society Technologies (S4S Technologies), over 2,700 women have gained access to critical resources, training and financing, and have become micro-entrepreneurs. By taking control of their own financial futures, they are not only benefitting themselves, but also contributing to the overall advancement of their community, improving quality of life for all members, and creating a path for other women to follow.

This is the power of equity; it enhances livelihoods, reduces poverty, and creates opportunity for all people.

Embracing equity is the core message of this year's International Women's Day. It is a message that resonates strongly with the Zayed Sustainability Prize – the UAE's pioneering global award for sustainability – which has, over the past 15 years, positively transformed the lives of more than 378 million people.

The Prize awards innovative and impactful organisations with solutions that address a wide range of sustainability challenges – including energy, food, water and health insecurity – and extend equal access to opportunities and resources to individuals and communities that are traditionally marginalised or disadvantaged. By delivering funding where it is needed most, the Zayed Sustainability Prize is scaling equity around the world.

S4S Technologies won the Prize in 2022 for its unique the solar conduction dryer technology. The electricity-free food processing machine converts farm losses to preservative-free, nutrition-rich products, helping farmers increase profits by 50% - 200%. Their solar conduction dryer has allowed smallholder farmers – mostly women – to lift themselves out of poverty by reducing food waste – an impactful example of equity in action.

Recognition from the Zayed Sustainability Prize last year allowed S4S Technologies to reach thousands more farmers and women micro-entrepreneurs, providing them training and support selling their produce. To date, it is has created 3,500 jobs, prevented 36,000 tonnes of food waste and displaced 300,000 tonnes of carbon dioxide, in addition to supplying nutritious food to 1.2 million people. The company has tackled the economic barriers facing rural Indian women head on, with transformative results. Today, S4S Technologies' entire value chain is operated by women.

The Zayed Sustainability Prize's commitment to promoting sustainable development and equity globally can be attributed to the UAE's strong support for gender equality.

The UAE Founding Father, Sheikh Zayed bin Sultan al Nahyan, after whom the Zayed Sustainability Prize is named, championed equal rights. He famously said, "The woman is half of the society; any country which pursues development should not leave her in poverty or illiteracy."

Since the country was founded, female representation in government, education and the workplace has steadily risen. In the World Economic Forum's 2022 Global Gender Gap report, the UAE ranked as a leading country in gender equality in the region. Emirati women make up 70% of all university graduates in the UAE; they occupy 15% of the positions in the boards of chambers of commerce and industry nationwide; and they hold two-thirds of public sector jobs in the UAE.

The UAE has also taken on a leadership role in promoting gender equality on the global stage, adopting the UN's Sustainable Development Goal (SDG) 5, which calls for gender equality and women's empowerment – efforts that are supported by the Zayed Sustainability Prize, which is proudly helping women-empowering sustainable development projects, like the one being deployed by S4S Technologies, gain momentum through funding and awareness.

Through its incredible winners, the Prize has made tremendous progress in empowering women by providing them with access to education, healthcare, and economic opportunities. As we mark International Women's Day on March 8, we honour the people and organisations who are working tirelessly to scale equity for women, from advocating for policies that promote gender equality to providing resources and support to women in their communities. These efforts are making a real difference in the lives of women and girls around the world, and we celebrate their successes.