Reducing gender violence with smart solar lighting solutions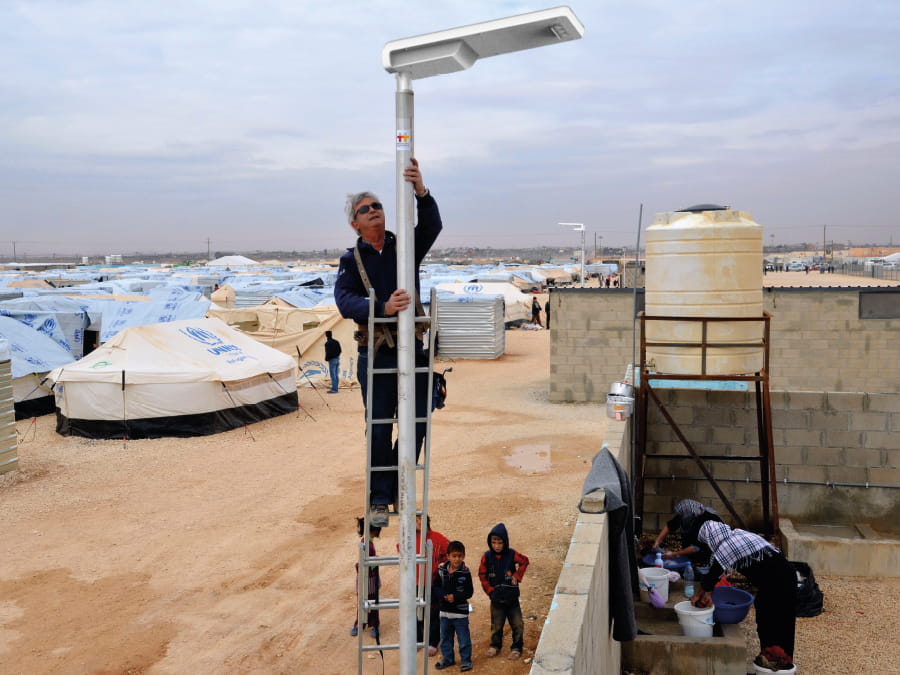 25 August 2019
Share article
By Thomas Samuel, Founder & President of Sunna Design
Last year, Électriciens Sans Frontières (ESF), an organisation that solves electrification issues in emergency situations, recognised the need for a compact plug-and- play solar lighting solution for the Zaatari Refugee Camp located, in Jordan. The technology needed to be something easy to install, totally self-sufficient, with limited risk of vandalism and no maintenance – a perfect fit with Sunna Design's range.
The Challenge
A bustling refugee camp that currently hosts 150,000 Syrians, Zaatari has grown exponentially over the years – at times with a daily flow of 1,000 migrants, including women and children. Consisting of large tents and built toilet facilities, the area is connected to the local power grid but experiences regular blackouts due to the unpredictability of the Jordanian network. This, of course, makes it impossible for the camp managers to provide reliable public lighting.
In addition to these challenges, there was also an urgent issue of security and comfort for women and children, in their use of toilet facilities at night. Despite the efforts of the UNHCR, local authorities and refugee communities to ensure safety within the camps, residents were still vulnerable to insecurity and personal attacks. Thus, ESF recognised that a simple and effective means of increasing their safety was through the installation of streetlights.
The Solution
Sunna Design identified the ISSL+ as its most compact plug-and-play streetlight model among a range of technologies. With all the elements – solar panel, battery and electronics – grouped into one product, the solution was ready to install at the top of any standard pole. With an installation time of only a few minutes, no trenching or additional connections would be required. Additionally, as its elements are out of reach, it is impossible to reuse for other applications, therefore limiting any damage from possible vandalism. Sized precisely for the operating needs, the ISSL+ was also an affordable solution for ESF.
The Result
One hundred Sunna ISSL+ streetlights were installed throughout the camp, particularly around the toilet facilities. Thanks to the lights' plug-and-play design, it took less than three days for three people to install all of them. As a standalone product, it limits general blackouts, illegal individual attempts to connect private appliances to the grid (which cause serious injury hazards), and extensions of the grid to cope with the growing size of the camp. It has also tremendously improved daily life at the camp by reducing the risk of sexual and gender-based violence, decreasing the incidence of crime and vandalism, and enabled more community gatherings and social activities – effectively breaking a cycle of lethargy that often results from living in a refugeecamp for many years.