Al Gore Advances COP21 Climate Action Campaign with Zayed Future Energy Prize Award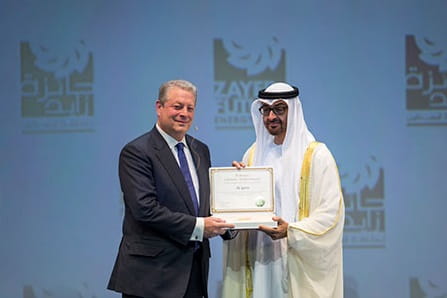 25 June 2015
Share article
Abu Dhabi, UAE, 25 June 2015 – Former U.S. Vice President Al Gore has used the 2015 Lifetime Achievement Award, bestowed on him by the Zayed Future Energy Prize in January, to provide critical funding to the COP21 climate action campaign, run by the Climate Reality Project. Gore established the Climate Reality Project, in 2006, to train volunteers to highlight the effects of climate change and ways to address it.

The Climate Reality Project's 'Road-to-Paris' campaign aims to unite citizens, corporations and organisations, across the globe, to demand a strong agreement to dramatically cut emissions and accelerate the planet-wide shift to clean energy, at the United Nations Climate Change Conference, COP21. The summit that will seek to achieve a legally binding and universal agreement on climate action will be held in Paris from 30 November to 11 December.

The Zayed Future Energy Prize award has aided Climate Reality Project's core campaign work by financing branch offices in eight key countries – Australia, Brazil, Canada, China, India, the Philippines, South Africa and the United States – the leaders of which are being urged, by the Climate Reality Project, to make and keep to strong commitments at COP21. It has also funded four Climate Reality Leadership Corps training sessions held in India, Canada and the United States.

In the first six months of this year, the Climate Reality Project has trained 800 volunteers from across the world as Climate Reality Leaders. Many of these volunteers are students, teachers, or project managers in their fields. Collectively, the Climate Reality Leaders have completed 600 actions to combat climate change.

Gore was awarded the Zayed Future Energy Prize for his personal and political commitment to raise international awareness about the dangers of climate change, while reinforcing optimism that the global community can and will successfully tackle the challenge.

The closing date for submissions and nominations for the 2016 Zayed Future Energy Prize is 30 June. Entries can be submitted online at http://zfepentry.com/2016/newentry/. The prize recognises pioneers in the fields of renewable energy and sustainable development.