Beyond2020 Kicks Off Second Phase, Installing Lighting Solutions at the World's Largest Refugee Camp in Bangladesh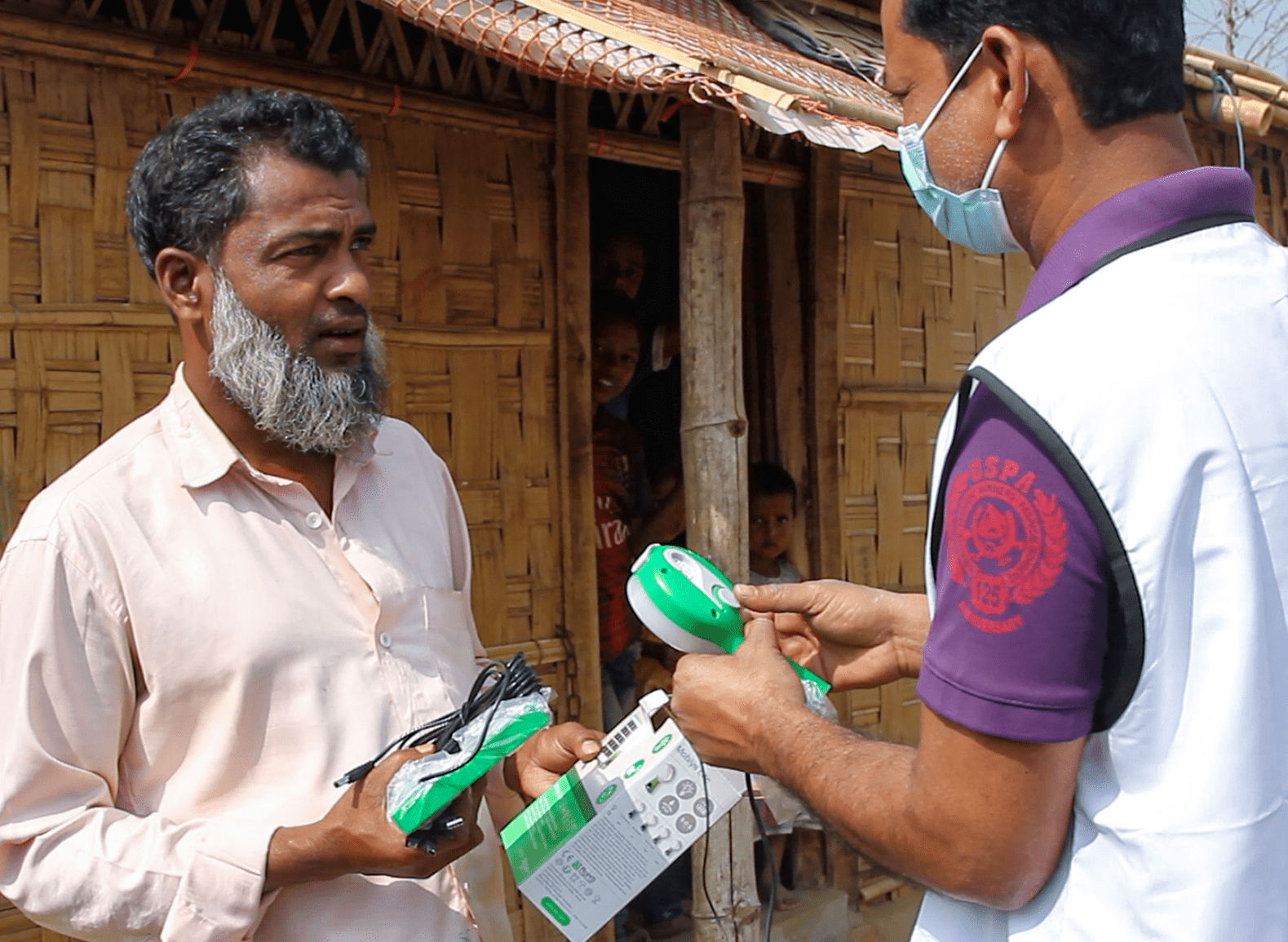 20 June 2021
Share article
Beyond2020, the UAE-driven humanitarian initiative, lit up the lives of 4,500 residents at the Kutupalong Rohingya refugee camp in Cox's Bazar, through the deployment of critical solar energy lighting solutions in May. The deployment in Bangladesh, which aims to enhance security and create better conditions for social and community activities after dark, marks the second phase of 20by2020, which earlier this year rebranded to 'Beyond2020' to serve as a flagship platform for continuous global outreach.
Electricians Without Borders, a leading France-based non-profit organisation and the Zayed Sustainability Prize 2020 winner under the 'Energy' category, was tasked with installing the technology on behalf of Beyond2020, at the world's largest refugee camp. The previous Prize winner leveraged its award-winning experience from the highly acclaimed 'Light for the Rohingyas' project that improved the lives of thousands of people through renewable energy and entrepreneurial mentoring, and provided its international expertise on off-grid renewable energy by installing 240 Solar Home Systems and 640 solar lamps in the refugee camp, while training its residents in equipment maintenance for their respective households.
Johannes van der Klaauw, the United Nations High Commissioner for Refugees' (UNHCR) Representative in Bangladesh said: "This generous donation will make a real positive difference in the lives of vulnerable Rohingya refugees. Light at night improves security and has important positive social impacts in the community, particularly for people living with disabilities and for women and young girls. The use of sustainable technology, such as the expanded use of renewable energy solutions, is a key priority for UNHCR in Bangladesh."
The deployment targeted all refugees, with a focus on people with disabilities, pregnant women, and young girls. During the distribution of the solar light solutions by the Beyond2020 initiative, there was a level of hesitancy amongst the targeted beneficiaries in terms of how much the solar lights would improve their overall situation and what it could add to their daily lives. This was mostly driven by the difficult economic conditions of the residents, which impended their ability to secure their basic needs, thereby residents considered solar electricity a luxury item. However, attitudes changed drastically after the practical real-life installation and subsequent use of the solutions, that replaced the kerosene lamps used by residents for their daily needs before, which was both hazardous to their health and costly, limiting the use of lights at night.

Hafaja Khatun, was one of the residents of Buthidoung Ulapake, Myanmar who currently lives in Camp 4, Sub Block: A-11. Due to the Rohingya crisis, she had to flee for her life to Bangladesh with her 15-year-old daughter. When speaking to the Beyond2020 team on the ground, Hafaja explained how she and her family had to use the common restroom in the camp, which is located far away from her shelter. Due to security concerns and lack of lighting, Hafaja and her daughter avoided using the restroom at night which was only accessible through a dark road that led to a public area.

For Hafaja, the solar lights from Beyond2020 are enabling her to move around safely after dark, both to access the restroom and to complete other essential tasks with more confidence and ease. Hafaja highlighted that she has become more active on the home front, as she is able to safely prepare food, cook meals for her family and conduct other household chores with the help of the lights.

Electrician Without Border's President, Mr. Herve Gouyet said: "Helping displaced populations gain access to sustainable lighting solutions is essential to help them immediately improve their safety and living conditions inside the camps and in a longer-term capacity to help them recover and rebuild their lives".
Gouyet concluded: "As expressed by the initiatives' beneficiaries, safe and sustainable lighting is also crucial to having more time for activities at night, having dinner as a family and rebuilding social connections, which are all essential for refugees to regain their lives and build their futures."
As part of the initiative's first phase, a total of eight deployments have been rolled out to date, including energy, health, water and food-related solutions in Nepal, Tanzania, Uganda, Jordan, Egypt, Cambodia, Madagascar, and Indonesia. In addition to Bangladesh, another 11 countries have been identified for phase two.
Going 'beyond generations', 'beyond borders' and 'beyond limits', Beyond2020 offers critical, life-transforming solutions to a broader number of beneficiaries worldwide, providing tech for good and fostering development that is inclusive and sustainable.
Beyond2020 brings together a leading and growing roster of UAE-based and international partners which include Abu Dhabi Global Market, Abu Dhabi Fund for Development, Mubadala Petroleum, the Ministry of Tolerance and Coexistence, Masdar, and BNP Paribas.