Zayed Future Energy Prize engages ambassadors' support to enhance international outreach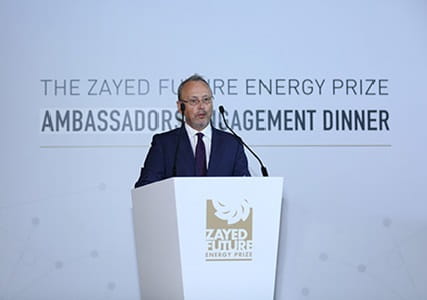 16 May 2017
Share article
The Zayed Future Energy Prize last night hosted a special reception for ambassadors from more than 30 countries to encourage international support for its upcoming 10th Anniversary edition. The event, hosted at the headquarters of the International Renewable Energy Agency (IRENA) in Masdar City, brought together diplomats as well as representatives from Abu Dhabi's leading sustainability organisations.

Guests were welcomed by Mohammad Jameel Al Ramahi, Chief Executive Officer of Masdar, who thanked the diplomatic community in the UAE for their ongoing efforts, emphasizing the critical role they have played in the success of the Prize.

He said: "The success of the Zayed Future Energy Prize during the past nine years, would not have been possible without the strong backing of the diplomatic community, not only in driving participation in the Prize, but in promoting a positive dialogue on sustainability and in raising community awareness."

The Ambassadors' Engagement Dinner also featured an address from H.E. Patrick Hennessy, Ambassador of the Republic of Ireland to the United Arab Emirates, and a presentation from Anca Westley, Director of Abu Dhabi Sustainability Week.

The event was capped by a presentation on the impact and opportunity of the Prize by Dr. Nawal Al-Hosany, Director of the Zayed Future Energy Prize, who emphasised the international growth of the renewable energy industry and the importance of continuing to build on the Prize's success in expanding the sustainability community.

She said: "The Prize has been incredibly effective in driving positive change over the last nine years. In particular, the way it engages youth to become future leaders in their own right has already brought remarkable results, and stands to be one of its most important legacies."

The Global High Schools category of the Prize, established in 2012, has positively impacted the lives of over 300,000 people in the winning schools and their surrounding communities. By supporting student-led sustainability projects across five regions each year, the Global High Schools award incubates the talent and passion of youth, pushing them to become leaders in the sustainability movement.

The Zayed Future Energy Prize will be accepting submissions in the Small and Medium Enterprise, Non-Profit Organisation and Global High Schools categories, and nominations for the Large Corporation and Lifetime Achievement categories until July 6th, 2017.