Zayed Future Energy Prize Winning Solar Powered Light Bottles Glow in the Spotlight at Masdar Instit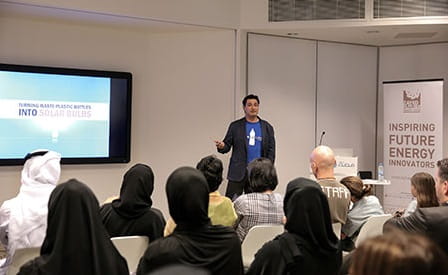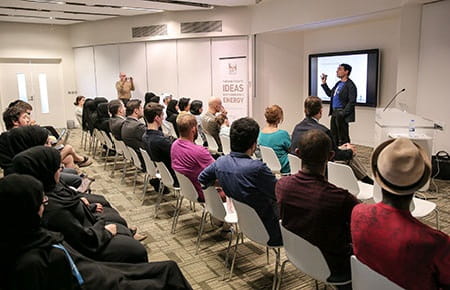 19 May 2015
Share article
Abu Dhabi, UAE, May 19, 2015 – Liter of Light founder Illac Diaz recounted the dramatic history of the solar powered bottle lamps that won his non-profit organisation the 2015 Zayed Future Energy Prize in a lecture held Monday, at the Masdar Institute, in Abu Dhabi.

During the talk entitled, 'Changing the World a Liter at a Time', Diaz spoke about his journey to enact positive change in developing communities using recycled plastic bottles. He recounted his experiences using the solar powered bottle lamps to restore light to the typhoon-devastated region of Tacloban in his native Philippines.

The event was organised by the Zayed Future Energy Prize to ignite Masdar Institute students' interest in innovation and its significance for the renewable energy industry. By linking prize winners to students, professionals and leaders around the world, the prize is using its global platform to increase awareness about the value of sustainability and innovation.

Diaz collected the prestigious 2015 Zayed Future Energy Prize on behalf of Liter of Light at a ceremony in Abu Dhabi on January 19 this year. The world's pre-eminent prize for renewable energy and sustainability honoured Liter of Light for addressing the combined challenges of climate change, energy security, and the environment through their innovative solar lighting solution.

Liter of Light is a non-profit organisation that uses cheap, readily available materials to provide high quality solar lighting to communities with limited or no access to electricity. The speakers will demonstrate how recycled plastic bottles filled with water and bleach can provide ample day lighting, while an upgrade to an LED bulb, micro-solar panel and a battery can provide low cost lighting at night.