Zayed Future Energy Prize Jury Meets to Select 2014 Winners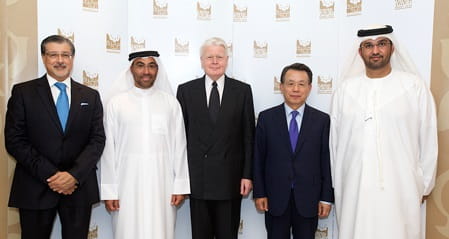 17 November 2013
Share article
Abu Dhabi-UAE: November 17, 2013 – The distinguished jury panel of the Zayed Future Energy Prize, the world's foremost award for innovation in renewable energy and sustainability, met today to select the winners for 2014.

A total of 23 shortlisted submissions were evaluated across five categories: Large Corporation, Non-Governmental Organization (NGO), Small and Medium Enterprise (SME), Lifetime Achievement, and Global High Schools.

The closed-door jury meetings mark the culmination of a stringent four-tier judging process that started with an initial assessment by the international research and analysis firm, Bloomberg New Energy Finance. This was followed by the meetings of the Review and Selection Committees to score candidates on the basis of the Prize's four criteria: innovation, impact, leadership and long-term vision.

His Excellency Dr Sultan Ahmed Al Jaber, UAE minister of state, director general of the Zayed Future Energy Prize and chief executive officer of Masdar, said: "When the UAE leadership established the Zayed Future Energy Prize six years ago, they were guided by the legacy and vision of our founding father Sheikh Zayed bin Sultan Al Nahyan, to create a truly global prize that recognizes and rewards the exemplary work of individuals and organizations in shaping a better tomorrow.

"Our winners are global and their impact has been truly global. In six years, the Prize has grown into a platform that impacts the lives of many around the world, accelerating energy and water access, renewable energy advocacy and deployment and energy efficiency, even while creating education and job opportunities through the projects pioneered by our winners," added HE Dr Al Jaber.

Winners of the Zayed Future Energy Prize have trained over a 1,000 women as green technicians and implemented more than two million solar home systems in Bangladesh. They have provided scholarships in the UAE, Nigeria, Mexico and Bangladesh. They have created an education fund to teach sustainability to schools in African villages and have helped provide over 5 million people with affordable safe drinking water daily.

The finalists for the 2014 prize include - Large Corporation category: ABB (Switzerland), GE (United States) and Walmart Stores, Inc. (United States); SME category: Abellon CleanEnergy (India), Clean Power Finance (United States), EcoNation (Belgium) and SELCO (India); NGO category: Fraunhofer Institute for Solar Energy Systems ISE (Germany), Practical Action (United Kingdom) and World Resources Institute (United States); Global High Schools category: Bronx Design & Construction Academy (United States), Colegio Franklin Delano Roosevelt (Peru) and Comprehensive Development, Inc (United States) from the Americas region; Gh. Rosca Codreanu National College (Romania) and Queen Elizabeth II High School (United Kingdom) from the Europe region; Abaarso School of Science and Technology (Somalia) and Nkhata Bay School Authority (Malawi) in the Africa region; Kalkeri Sangeet Vidyalaya (India) representing the Asia region, and Tonga High School (Tonga) and Urrbrae Agricultural High School (Australia) from the Oceania region.

The Prize jury includes heads of state, leading energy experts and world-renowned personalities committed to the global effort of accelerating the adoption of renewable energy and sustainability.

Chaired by His Excellency Ólafur Ragnar Grímsson, President of the Republic of Iceland, the 2014 judging panel includes His Excellency Dr Han Seung-soo, former Prime Minister of Korea; His Excellency Mohamed Nasheed, former President of the Republic of the Maldives; Her Excellency Elizabeth Dipuo Peters, Minister of Transport for South Africa; Sir Richard Branson, Founder and Chairman of Virgin Group; Adnan Z Amin, Director General of the International Renewable Energy Agency; His Excellency Ahmed Ali Al Sayegh, Chairman of Masdar and Chairman of Global Marketplace Abu Dhabi (GMAD), and Ratan N Tata, Chairman Emeritus of Tata Group.

Addressing members of the media after the jury meetings, HE Ólafur Ragnar Grímsson said: "The Zayed Future Energy Prize is one of a kind – it is the only prize that recognizes and rewards the solutions for the future. The Prize shows us that a different kind of future is possible.

"The leadership of the UAE should be very proud to have created this prize that inspires and enables individuals, schools and organisations from across the world to join hands on a mission for a more sustainable world. The finalists we have seen today give me a sense of inspiration," continued President Grimsson.

"This year, we saw a record number of Global High School submissions. It is profound and inspiring to see the youth of today participate in such large numbers. It is a strong indication of their demand for a more sustainable future," added President Grimsson.

HE Dr Han Seung-soo said: "The energy challenge is one of the biggest issues of our time, and I commend the UAE leadership on leading the effort to fund the solutions and technologies we desperately need. There is no doubt that the Zayed Future Energy Prize will encourage many people towards global sustainability."

Adnan Amin said: ""The key significance of the Zayed Future Energy Prize is that it projects hope for the future. As a world characterized by the requirements of meeting growing energy demand with the imperative of sustainability, it is the solutions that we develop today that will help us prepare for a sustainable tomorrow."

Commenting on successfully hosting the prestigious global award for the sixth consecutive year, HE Ahmed Ali Al Sayegh said: "Each of the shortlisted candidates has showcased viable, eco-friendly solutions that are at once innovative and inspiring. It has been a challenging task this year to select the winners – to identify the most innovative people and organizations that embody Sheikh Zayed's vision of a sustainable future in letter and in spirit."

The Zayed Future Energy Prize, managed by Masdar, is a US$4 million prize for individuals and organizations working to find solutions to tackle the global challenges of energy, water and sustainability. Winners of the sixth edition will be announced at the Zayed Future Energy Prize awards ceremony scheduled for 20 January, 2014 as part of the annual Abu Dhabi Sustainability Week.