Youth Ambassadors Shine at MENA Climate Week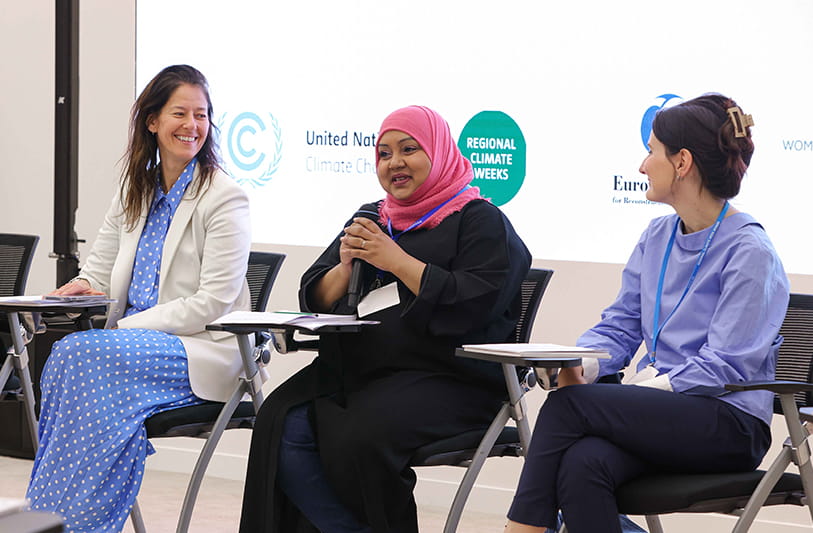 13 October 2023
Share article
Two students from Zayed Sustainability Prize-winning schools, Sultan Al Khalifa and Lama Al Maraj, displayed unwavering dedication during MENA Climate Week 2023 (MENACW 2023) in Riyadh, Saudi Arabia from 8-12 October. In an era defined by climate challenges, these young ambassadors demonstrated the indispensable power of youth as catalysts for positive change.
Bahrain Bayan School, a nonprofit K-12 bilingual institution, leveraged Prize funds to develop EcoLab 360, a learning platform dedicated to sustainable practices and technologies. It champions the five R's: Reduce, Reuse, Recycle, Raise awareness and Renewable energy.
The Prize's Youth Ambassadors are committed to actively involving young people, influencing the formulation of forthcoming Nationally Determined Contributions (NDCs), and highlighting the importance of intergenerational collaboration in addressing climate change.
At the event, Bahrain Bayan School's Youth Ambassadors engaged in a cross-generational dialogue, emphasising the pivotal role of youth in propelling climate action. Their contributions encompassed thought-provoking panel discussions titled "Youth Stocktake: Where are we now?" and "Youth Leadership in Policymaking to Accelerate Climate Action in MENA."
Including these young change-makers underscored the recognition of their pivotal role in shaping policies, advocating for climate action, and working toward a sustainable future. This significant event not only showcased their dedication but also exemplified the enduring impact of the Zayed Sustainability Prize in nurturing environmental stewardship among future generations.
Bahrain Bayan School's students' involvement at MENA Climate Week serves as a resounding call to action for the global community. It reinforces that youth engagement is not merely an aspiration but a tangible reality, essential for achieving climate objectives and securing a sustainable planet for all.