Women in Sustainability Unite at Abu Dhabi Sustainability Week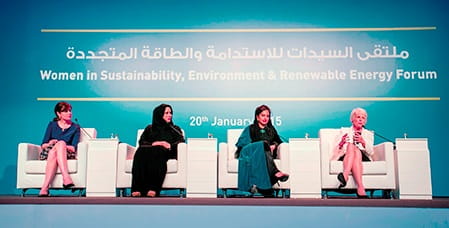 21 January 2015
Share article
Local and International Female Leaders Assemble to Address Challenges of Climate Change and Energy Security

(From left to right) Richenda Van Leeuwen Executive Director, Energy and Climate, Energy Access Initiative United Nations Foundation; Eng. Fatima Alfoora Alshamsi Assistant Undersecretary for Electricity, clean energy and desalination of water; Dalya Al Muthanna President and CEO of GE Gulf; Marie-José Nadeau, Vice-Chair of the Zayed Future Energy Prize Selection Committee, Chair of the World Energy Council and Executive Vice President, Corporate Affairs & Secretary General of Hydro-Québec.

Abu Dhabi, UAE 21 January, 2015 –­ Women working in the field of sustainability received high-profile recognition today in a major forum convened by Masdar in partnership with the UAE Ministry of Foreign Affairs and Zayed Future Energy Prize. Featuring female executives and leaders from around the globe, the Women in Sustainability, Environment and Renewable Energy (WISER) forum underscored women's quickly growing contributions to climate change solutions and green growth, as well as the tremendous opportunities now available to female graduates and young professionals. The event was held as part of Abu Dhabi Sustainability Week and the World Future Energy Summit.

The forum assembled women in the fields of engineering, media, politics and science to drive solutions that address the challenges of energy, water security and climate risk.

WISER was opened with a keynote address from Her Excellency Reem Al Hashimy, UAE minister of state, director general, Bureau Dubai Expo 2020 and board representative of the Dubai Expo 2020 Higher Committee, who said "The support of women leaders, who advocate sustainability, is a priority to the UAE and Expo 2020 Dubai. The WISER forum is a platform where and how women's empowerment can work to address viable sustainability initiatives."

The event took both personal and global perspectives on women's status and contributions in sustainability, mixing gender statistics with individual narratives from the speakers and discussion of general industry issues. Topics ranged from the upcoming Paris climate change negotiations to work-life balance, including a special highlight by the Zayed Future Energy Prize on empowering women in developing countries.

"Abu Dhabi Sustainability Week attracts some of the world's leading global players in sustainability to address the world's most pressing environmental challenges," said His Excellency Dr. Sultan Al Jaber, UAE Minister of State and director general of Zayed Future Energy Prize and chairman of Masdar. "In his lifetime, our founding father Sheikh Zayed bin Sultan Al Nahyan stressed the importance of women's education and participation, encouraging them to work in all sectors. WISER builds on this legacy and shows how much women are needed as we face the challenges of climate change and sustainable development."

"The world has reached a critical turning point where many women are playing leading roles to build the resilience of their families, communities and the planet amid the challenges of water scarcity, energy security and climate change," said Dr. Nawal Al-Hosany, director of sustainability at Masdar. "The WISER forum offers an empowering environment to encourage both female leaders and women at the beginning of their careers in business, media and politics to pursue their own visions."

WISER leverages the global attention focused on Abu Dhabi during Sustainability Week, with more than 32,000 participants from 170 countries, and will include leaders from academia, industry and government.Topics will explore the relationship between shale gas and renewables, advances in solar-powered water desalination, and shared approaches to accelerating sustainable energy.