WiSER Panel Discusses How Innovation Can Support the Water-Energy-Food Nexus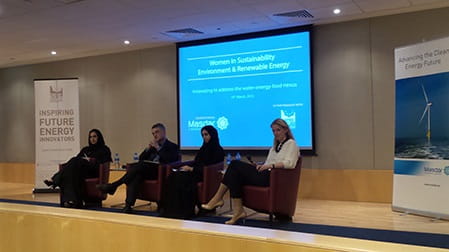 12 March 2015
Share article
The Women in Sustainability, Environment and Renewable Energy (WiSER) panel experts listen to a member of the audience during the question and answer session.

Abu Dhabi, UAE, March 12, 2015 – Leading international and local experts in the fields of water, clean energy and environment convened on March 10, to discuss how innovation can improve sustainability. The forum was held by Women in Sustainability, Environment and Renewable Energy (WiSER), an initiative of Masdar, Abu Dhabi's renewable energy company in partnership with the Zayed Future Energy Prize.

The experts debated the role innovation plays in addressing the water-energy-food nexus, on the side lines of the Global Forum for Innovation in Agriculture (GFIA) 2015, taking place in Abu Dhabi. This is second WiSER event held since its formation during Abu Dhabi Sustainability Week 2015 in January.

The effect of climate change on rural agricultural communities in developing countries was a key topic during the discussion. The panellists also considered evolving technologies in rain enhancement and renewable energy as potential solutions for the future and the transition of innovation from industry to agricultural communities. Particular focus was given to the impact on and role of women across these areas.

Among those taking part in the discussion were Dymphna Van der Lans, CEO, Clinton Foundation; Alya Al Mazrouei, manager of the UAE Research Programme for Rain Enhancement Science, National Center of Meteorology & Seismology (NCMS); and Gustavo Fonseca, director of programs, Global Environment Fund. Dr. Nawal Al Hosany, director of sustainability at Masdar and director of the Zayed Future Energy Prize moderated the panel.

Dr. Al Hosany said, "With the world's population expected to reach nine billion by 2050, pressure on sources of water, energy and food will soon reach breaking point. Women around the world will feel the effects of this natural resource scarcity disproportionately. However, they are also uniquely placed to offer viable and sustainable solutions using innovative new technologies and approaches.

"WiSER is proud to offer this unique platform for leading experts to discuss innovative solutions for our global energy, food and water challenges and to do so taking into account the particular challenges which women in developing countries face."

The GFIA conference took place in Abu Dhabi from March 9-11, held under the patronage of H.H. Sheikh Mansour Bin Zayed Al Nahyan, deputy prime minister of the UAE, minister of Presidential Affairs and chairman of Abu Dhabi Food Control Authority. The exhibition and conference featured more than 300 next-generation agricultural solutions that could shape the future of sustainable farming around the world.