WiSER Conference Explores Opportunities for Women Advancement in Clean Energy in Response to Eastern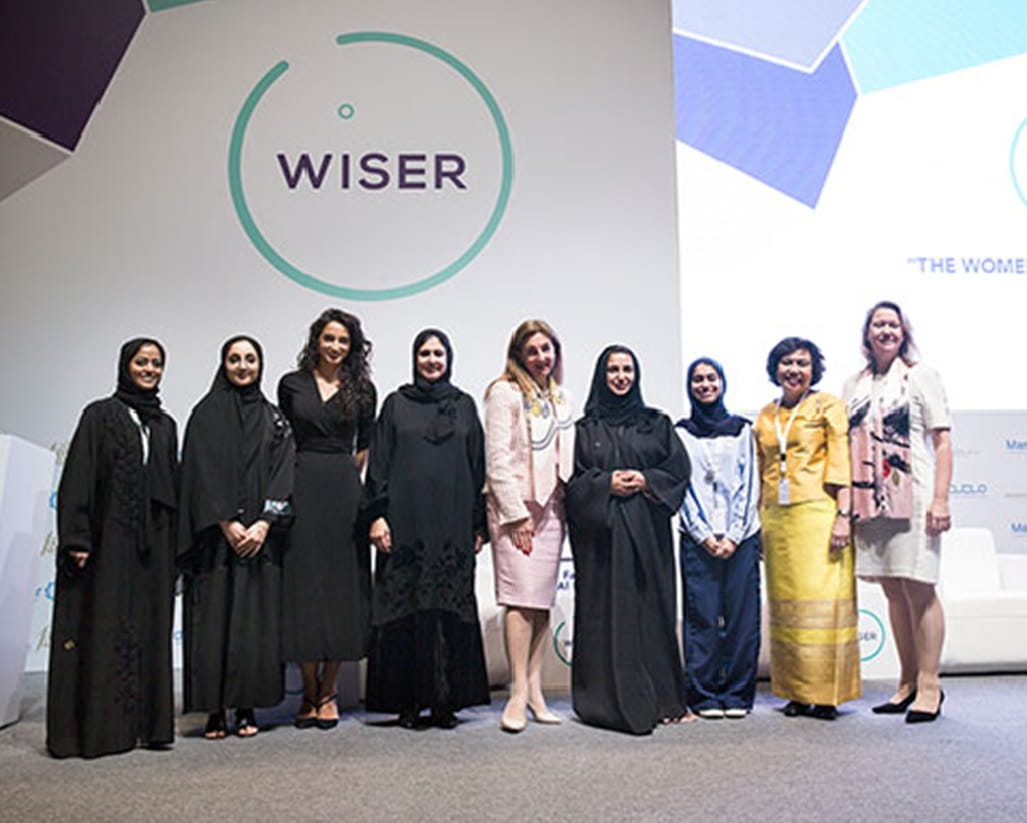 17 January 2018
Share article
Global leaders from business, government and academia gathered in Abu Dhabi for the third annual Women in Sustainability, Environment and Renewable Energy (WiSER) conference under the theme, 'Women of Easternisation', focusing on the impact on women advancement through renewable energy and sustainability initiatives. The event was organised by Masdar in partnership with the Zayed Future Energy Prize.

The rise of Easternisation due to rapid growth of domestic economies, particularly in India and China, has seen heavy investments in renewables. China's announcement of the "The Silk Road Economic Belt" initiative sees a trillion-dollar infrastructure plan and ample opportunities arising in efforts to shift trade flows towards Asia and revitalise the old Silk Road stretching from Asia and the Middle East, to the Mediterranean.

This shift in geopolitical and economic power from the west to the east also presents unparalleled opportunities for women to enter the clean energy industry and support the global energy transition to new, clean forms of energy.

Her Excellency, Mariam bint Mohammed Saeed Hareb Al Mehairi, Minister of State for Food Security, United Arab Emirates delivered a keynote address focusing on the crucial role of women in transforming the world's food, energy and water systems and the role Easternisation has to play in achieving women empowerment and a sustainable future for all.

Dr Nawal Al-Hosany, WiSER Programme Director, Deputy Director General Emirates Diplomatic Academy, and Director of the Zayed Future Energy Prize, said: "Easternisation will involve major economies investing and the opening trade routes that spans several regions extending beyond 65 countries. China's progress in solar power plants development and its export of its skills and capacity, especially to Central Asia and Africa, not only presents energy access but will stimulate growth opportunities in these regions. It is essential that policy makers and corporations leverage this growth opportunity to overcome the barriers that have historically prevented women's participation and leadership in clean energy-related fields.

Specifically, the existing strategic energy-focused partnership between the UAE and China, which is anchored on research and development of renewable energy sources, supports the UAE's move towards achieving a competitive knowledge economy, and has created many advancement opportunities for women.

Dr. Al Hosany added: "We foresee more growth opportunities for women and girls arising from Easternisation. It will have a ripple effect on social and economic development for women; but its extent also depends on breaking down gender roles and biasness that may already be part of the fabric of local cultures and existing glass ceilings."

The WiSER conference, a key event at Abu Dhabi Sustainability Week, also convened women leaders at a panel to discuss the impact of Easternisation on women advancement. The panelists discussed opportunities and barriers for women's entry into education, science and knowledge industries, and the critical importance of having policies that not only protect women's rights but ensure the inclusion of women at the beginning of any opportunities that arise from Easternisation.

Panelists involved were Anja-Isabel Dotzenrath, Chief Executive Officer of E.ON Climate & Renewables (EC&R); Dr. Florence Eid-Oakden, CEO & Chief Economist, Arabia Monitor; Dr. Manar Al Moneef, CEO, Renewable Energy, GE, MENAT; Lara van Druten, Managing Director, The Waste Transformers.

Reflecting on the opportunities for women in Asia, Dr. Wandee Khunchornyakong, Founder, Solar Power Company Group, Thailand, said: "Opportunities have risen for women in Asia with the deployment of Easternisation and the renewable energy industry. Education and self-belief amongst women are two crucial elements in their advancements. With two thirds of bachelor and masters graduates being women, we see women pursuing higher education and advancing themselves now more than ever.

"Today, 40 percent of CEOs in Thailand's listed companies are women. Beyond this, we hope to ensure that women are better represented in boards of directors in companies too. For this to happen, we need to collectively ensure policies and organisations focus on women inclusivity and equality."

Present at the conference and presenting the youth's perspective, Fatima Al Kaabi, the UAE's youngest inventor, said: "It is essential that children, regardless of gender, receive the support they need to pursue their passion – access to the right tools, education and opportunities to explore their full potential. Easternisation will see accelerated development for many parts of the world, more professional options, and hopefully better education to support ambitions of the youth.

"Beyond the support of my family and friends, I've been fortunate to have received tremendous support from the UAE government, encouraging me to develop my skills and interest in the field of technology and science to invent practical solutions that would make a positive impact in our world."

The WiSER conference saw robust discussions amongst speakers and the audience about women advancement in light of Easternisation.