The Ripple Effect of your Actions in your Community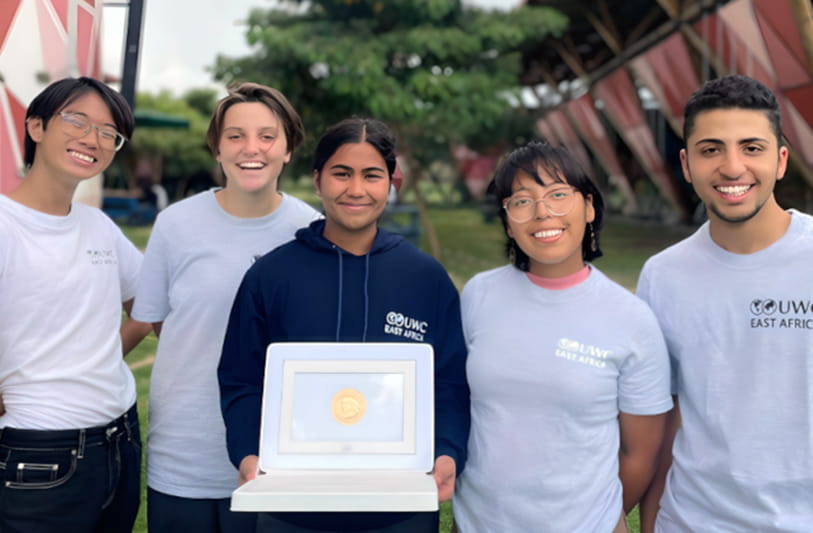 28 April 2023
Share article
By Team Maji Safi, the 2023 Global High Schools winner from Sub-Saharan Africa
1,000 filters. 10,000 people. That is just the beginning of the community impact of our project.
We are the students who led the winning proposal from UWC East Africa – Arusha Campus, or Team Maji Safi. We are implementing sustainable bone char filters to prevent the issue of fluorosis in Arusha, Tanzania.
We are proud to have the honour and privilege of winning the Zayed Sustainability Prize in 2023, and we know that we must set an example for other schools nationwide to pursue their service projects.
As youth, we are often told that we are the future and responsible for making meaningful changes. Still, in such a globalised world, it can sometimes be overwhelming to have such high expectations thrust upon you, considering that we are often overlooked as youth.
However, with the help of initiatives like the Zayed Sustainability Prize, we as the youth now have a platform to engage with like-minded people to pursue our passion for service and undertake projects which may seem small in the grand scheme of things but have insurmountable positive impacts on our local communities.
Since winning the Prize, we have directly engaged with a total of four other privately-financed schools and have been contacted by other schools in our region to learn more about their service projects.
Through this direct network with other schools in Tanzania, we have been able to boost awareness about sustainability and the critical aspects of service projects, which are often disregarded. Furthermore, by doing so, we have created a ripple effect of sorts as we have laid the foundation for other schools in Tanzania to start and continue their endeavours, which have the potential to yield transformative social outcomes.
The issue we aim to tackle – to prevent fluorosis – is one that is often over-complicated. By implementing a water filtration system quite literally made from charred animal bones, we have demonstrated that a community can make significant impacts through simple but reliable methodologies.
By doing so, we have been able to break down the negative assumptions of change-making in society and showcase that anyone can make a change if they are willing to do so. This was directly seen in one of the schools that we work with, where they installed small trays for scrap papers for drafts and calculations that would otherwise be thrown away. Once again reinforcing that change is cumulative rather than something one-off.