Championing the Youth Sustainability Movement in Croatia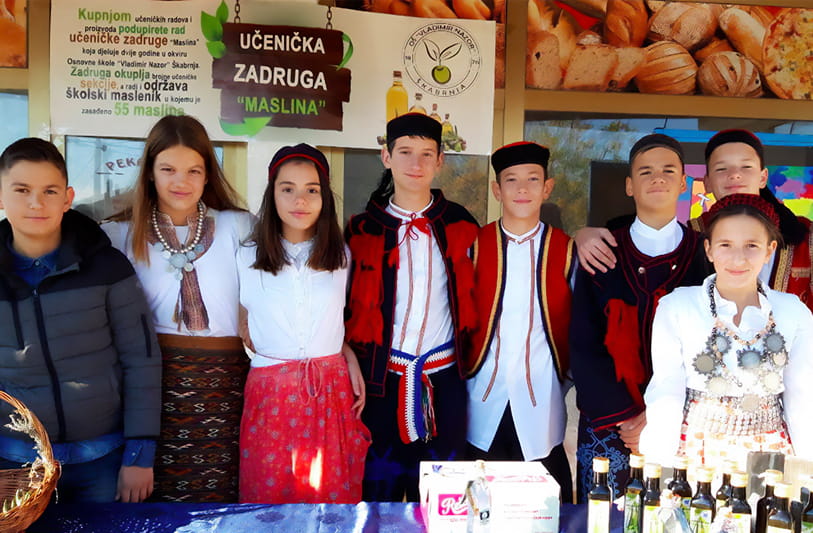 26 September 2023
Share article
Leonarda and Jelena Škara--also known as the Škara Sustainability Sisters, are from Škabrnja, Croatia. Their sustainability journey began when their school won the Zayed Sustainability Prize in the Global High Schools category in 2018. Being part of their school's winning project transformed their perspectives on sustainability and opened the sister's minds to the global nature of the issues facing their community.
In this piece, the sisters share their experiences working on their school's project which serves as an example for other schools and ignited a passion for sustainability in the community.
Meet Leonarda Škara

Hello, my name is Leonarda Škara. I was one of the students who represented our school, Vladimir Nazor, in 2018 when it won the Zayed Sustainability Prize. The experience of participating in an event like that is truly a unique one. Sustainability, unfortunately, was not really a term that was mentioned often within our social circles before the Prize. I come from Škabrnja, a village located in the Mediterranean region of Croatia.
Before winning the Prize, our village was mostly known for being the site of massacre during the Balkan wars. While it was all new for me and my sister Jelena, sustainability was not a term that was hard to understand. Quite the opposite, it turned out that the simplest solutions had the greatest impact in dealing with climate issues, and we only had to give just a little bit of effort to make them happen. While trying to understand climate issues and how to deal with them we had to be aware that every single effort is appreciated in our community.
Participating in the events that the Prize team arranged for us during our visit was something new to me, and my classmates, and it was quite an eye opener. What I personally liked most was the perseverance and innovation that we could see coming from other high school students from around the world. Seeing so many young people dedicated to coming up with new ideas and solutions for the climate changes that are affecting us all was truly inspiring. In a sense, it gave me confidence that we will collectively address the challenges facing our world.
Meet Jelena Škara
Hello, my name is Jelena Škara. I was part of the team that represented our school when we were invited back to Abu Dhabi to present our project to the 2019 Zayed Sustainability Prize winners. Following my sister's footsteps, I did my best to represent my school throughout this new and exciting experience abroad.
I was overjoyed to be able to share the progress of my school's project with the next batch of Prize winners and to hear how my peers who also won the 2018 Zayed Sustainability Prize in the Global High Schools category were progressing with their projects. I can say that I learned a lot during my stay in the Emirates. It's a different culture with the same view of the climate problems surrounding us and the same strong wish to eliminate them. The whole time we were there, we were surrounded by inspiring people with inspiring solutions. Understanding sustainability and seeing these small changes can really make a difference. The experience meant a lot for me as it challenged me to open my eyes and have a broader view of the world, and I am sure it was also that way for many of my peers.
Thanks to winning the Prize, we implemented a sustainable project that is suitable for our local community with its Mediterranean climate and an olive-oil making tradition that dates back thousands of years to the Roman Empire. Our project combines solar power with LED lights and LiFi (Light Fidelity internet), solar backpacks to charge mobile phones, an electric car for school's kitchen and 'Olive,' the student cooperative that looks after the 60 olive trees in the school's garden. Our school saved lot of money on energy costs using the solar panels that we installed as a part of our project, and we are the first school in Croatia that is 'surfing on light'--as we refer to our LiFi-- and we produce our own olive oil.
All of these things sparked an innovative space for learning and inspiration for other generations and other schools in Croatia. And through meeting students from around the world, my sister and I learned that addressing global challenges often starts with leveraging local resources and community knowledge.