M-KOPA to Launch Global Training Programme with Zayed Future Energy Prize Funds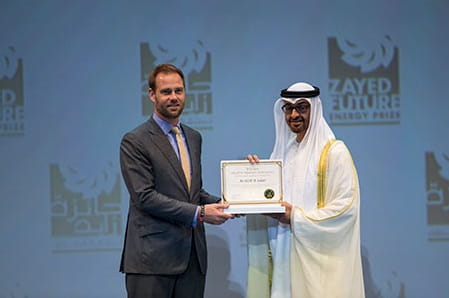 11 May 2015
Share article
Sheikh Zayed Honoured with the Zayed Centre Training Facility

HH General Sheikh Mohamed bin Zayed Al Nahyan Crown Prince of Abu Dhabi Deputy Supreme Commander of the UAE Armed Forces (R), presents the Zayed Future Energy Prize Small and Medium Enterprise award to Jesse Moore, Co-founder and Managing Director of M-KOPA Solar (L) during the opening ceremony of the World Future Energy Summit, part of Abu Dhabi Sustainability Week at the Abu Dhabi National Exhibition Centre (ADNEC).

( Donald Weber / Crown Prince Court - Abu Dhabi )

Abu Dhabi, UAE, 4 May 2015 – The Zayed Future Energy Prize is to reach out to thousands of UAE students, at the Emirates Foundation's Think Science 2015, in its quest to identify sustainable solutions to the world's energy challenges.

In line with the UAE's 'Year of Innovation', UAE high school students, aged 11-19, will be encouraged to submit projects, that promote renewable energy and sustainability on school campuses, for the Global High Schools category of the 2016 Zayed Future Energy Prize.

Being held at the Dubai World Trade Centre, May 5-7, under the patronage of His Highness Sheikh Abdullah bin Zayed Al Nahyan, minister of Foreign Affairs and chairman of Emirates Foundation, the Think Science Fair showcases ground breaking technological innovations from the UAE's brightest young minds.

Dr Nawal Al-Hosany, director, Zayed Future Energy Prize, said: "Meeting the future energy needs of a growing global population, while protecting the environment, requires fresh, innovative ideas. Talented young minds can offer new perspectives on sustainable solutions that will help deliver greater energy security for the world.

"By motivating students with examples of clean energy projects and sustainable technologies, the Global High Schools category of the Zayed Future Energy Prize encourages and empowers students to pursue careers in science, engineering and technology."

In its fourth year, the Global High Schools category is a commitment by the UAE leadership to the UN Secretary General's 'Sustainable Energy for All' initiative, which seeks to double renewable energy and energy efficiency as well as to ensure universal energy access by 2030. It seeks to stimulate students to take ownership of global energy challenges. And, by building environmental awareness initiatives into school curriculums, it exposes students to the knowledge and skills necessary to explore new ideas for renewable energy.

The winning submission from five geographic regions in the Global High Schools category of the Zayed Future Energy Prize will be awarded a grant of up to $100,000. High schools can submit proposals that address at least one of the 'Sustainable Energy for All' objectives, such as improvements in energy or water efficiency, or a reduction in waste, at www.ZayedFutureEnergyPrize.com. The deadline for submissions is June 22.