German Ministers Congratulate Zayed Future Energy Prize Winning School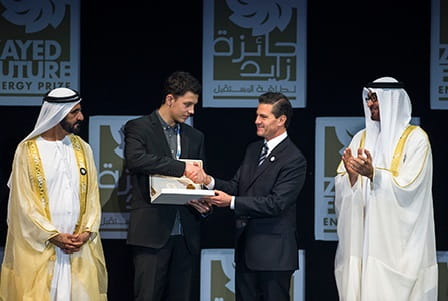 20 March 2016
Share article
Abu Dhabi, UAE, 20 March 2016 – Germany's Foreign Minister Dr. Frank-Walter Steinmeier and Minister for Economic Affairs and Environment Sigmar Gabriel congratulated Students-Research-Network South Wuerttemberg (SFZ) for winning the Zayed Future Energy Prize in the Global High Schools category, Europe region, during the Berlin Energy Transition Dialogue 2016 on Thursday, March 17.

Joining the German Ministers in applauding the school's achievement were Director-General of the International Renewable Energy Agency (IRENA) and member of the Zayed Future Energy Prize Jury, Adnan Amin, more than 25 international government ministers, and almost 1,000 visitors from nearly 70 countries.

Commenting on SFZ's achievement, Mr. Amin said: "The Students-Research-Network South Wuerttemberg presented an outstanding proposal in winning the Zayed Future Energy Prize. Deploying renewable energy to schools gives students a reason to learn about sustainability in an academic environment. By providing funding for the winning Global High Schools category project proposals, the Zayed Future Energy Prize recognises and rewards concrete efforts to promote sustainability and energy solutions for future generations."

Dr. Nawal Al-Hosany, director of the Zayed Future Energy Prize, said: "The Zayed Future Energy Prize is extremely proud that the UAE leadership's commitment to inspiring young people by involving them in sustainability projects, is being acknowledged in other countries. It is immensely gratifying that the prize is encouraging youth to take action on realising a more sustainable future. The German government's recognition of its work, and the inspiring example set by the prize's many entrants and recipients, is further endorsement of the UAE's role as a responsible energy leader and champion of sustainable development."

Hosted by the Government of the Federal Republic of Germany, the two-day Berlin Energy Transition Dialogue aims to encourage discourse on the challenges of securing a sustainable energy supply and investment in renewable energy and energy efficiency.