Future of Energy Summit Hears High-Level Support for Zayed Future Energy Prize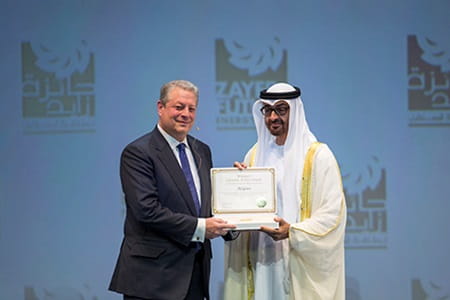 05 April 2016
Share article
Al Gore among leaders making case for UAE award

New York, 5 April 2016 – Nearly 2,000 key decision-makers linked to the energy industry, including U.S. Secretary of State John Kerry, are hearing why the world needs the Zayed Future Energy Prize from Former U.S. Vice President Al Gore, President of Iceland Ólafur Ragnar Grímsson and Former Prime Minister of Norway Dr Gro Harlem Brundtland, at the annual two-day Future of Energy Summit, organised by Bloomberg New Energy Finance in New York.

Since the summit's opening on Monday, April 4, each of the main plenary sessions features a video of the two Zayed Future Energy Prize Lifetime Achievement Award winners, Al Gore and Gro Brundtland, and the Chair of the prize's Jury, President Grímsson, making the case for the UAE's international award for pioneers of renewable energy and sustainability. The summit is described as the premier invitation-only forum at the nexus of energy markets, industry, finance and policy.

Speaking about the significance of the support for the Zayed Future Energy Prize, its Director, Dr Nawal Al-Hosany, said: "The level of international support the Zayed Future Energy Prize receives, reinforces the UAE leadership's mission to foster a community that encourages sustainable energy innovation and to honour the legacy of environmental, social and economic sustainability advocated by the nation's Founding Father, Sheikh Zayed bin Sultan Al Nahyan. For a number of years, the prize has played a role at the Future of Energy Summit, because no discussion about the future of energy is complete without the Zayed Future Energy Prize."

Following a keynote speech by U.S. Secretary of State Kerry later today, Tuesday, April 5, Bader Al Lamki, Executive Director of Clean Energy at Masdar will participate in a plenary panel, entitled, 'After Paris: how will things be different?' where he is expected to point to the Zayed Future Energy Prize as evidence of how businesses and other organisations can help governments reach the targets set in the Paris Climate Agreement and the UN's Sustainable Development Goals by providing clean affordable energy and water.

The impact of the Zayed Future Energy Prize will also be highlighted at a regionally focused lunch convened by Masdar on the Middle East and North Africa. The lunch will feature a panel discussion exploring best-practice and opportunities from the wind and solar power markets in the region, moderated by Michael Wilshire, with panellists, Bader Al Lamki, Executive Director of Clean Energy, Masdar; Cyrille Arnould, Head of The Global Energy Efficiency and Renewable Energy Fund, European Investment Bank; Carmelo Scalone, Director of New Business, EDF Energies Nouvelles and Jing Tian, Head of Global Marketing, Trina Solar.