Find The Pioneer Campaign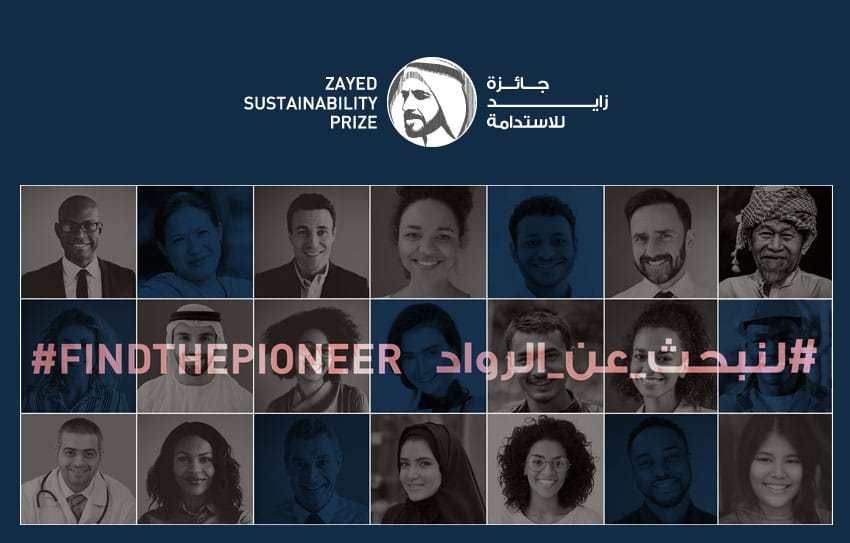 16 April 2020
Share article
The world's sustainability pioneers are working on the frontlines to address the global pandemic and tackle the world's biggest challenges across the areas of Health, Food, Energy and Water.

The Zayed Sustainability Prize is searching for pioneers who are playing a dynamic role in transforming communities and impacting lives through inspiring, innovative solutions.

Rooted in the belief that sustainability is a shared responsibility, #FindThePioneer invites you, the public, to take part in the Zayed Sustainability Prize by nominating potential candidates and encouraging them to apply*.

Nominees for the Health, Food, Energy and Water categories must be small-to-medium sized enterprises or non-profit organisations that have an existing sustainability solution with demonstrable impact. Nominees for the Global High School category must be high schools with a student-led project proposal in any of the four sustainability areas. Make your nomination by May 20th, 2020.

*Once nominated, pioneers will need to submit their entry for the Prize via the application portal, so their solutions can be properly reviewed and assessed by our panel of judges within the three-tier evaluation process for the 2021 awards.
To read more about the campaign, please visit https://zayedsustainabilityprize.com/Assets/ZSP/find-the-pioneer/en/index.html.