Experts Focus on Future of Sustainable Energy in Abu Dhabi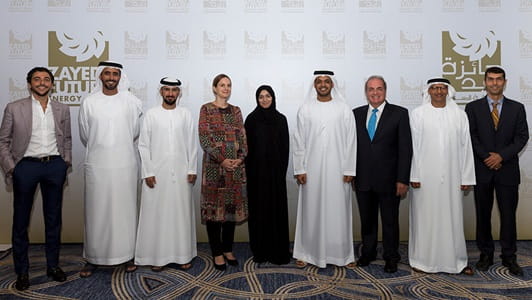 08 September 2016
Share article
Zayed Future Energy Prize evaluates entries at Review Committee stage

Selection of the winners of the 2016 Zayed Future Energy Prize, the UAE's global awards for pioneers of renewable energy and sustainable development, got underway yesterday with a meeting of the Review Committee in Abu Dhabi, the second of four evaluation stages.

Local and international experts met to examine the entries that made their way through a two-month due diligence appraisal by the prize's research and analysis partner, Bloomberg New Energy Finance. The Prize's Review Committee drew up a shortlist of submissions and nominations using the criteria of impact, innovation, leadership and long-term vision.

Director of the Zayed Future Energy Prize Dr Nawal Al-Hosany said: "Never in its nine years has the Zayed Future Energy Prize been more relevant than at this time. A year on from the adoption of the Sustainable Development Goals and with COP 22 fast approaching, we are at a critical moment in the global debate around sustainability. The growing impact of the prize is providing answers to some of our most pressing challenges we face today."

"As well as honouring Sheikh Zayed's legacy, the UAE leadership has shown great foresight by encouraging innovation in sustainable energy development around the world through the prize. Convening industry leaders and experts at the Review Committee stage is an important step in that process."

During the last eight years, the Zayed Future Energy Prize has been a demonstration of the UAE's commitment to encouraging and rewarding innovation on a global scale. By recognising pioneers in the renewable energy and sustainability sectors, the prize has positively touched the lives of more than 202 million people through its global community of winners.

The Chair of the Review Committee, Eng. Rashed Obaid Al Dhaheri, Acting Executive Director of the Minister of State Office commented: "This has been a significant year for the global dialogue on renewable energy and sustainability and the prize's growth reinforces this. In my time on the Review Committee I have been impressed by the continued growth in the standard and breadth of entries that we receive each year, making it increasingly hard to decide which ones make it through to the next phase."

A record 1,678 entries were received this year, an increase of 22 percent on 2015. Nominations, accepted in the Large Corporation and Lifetime Achievement categories, account for 555 entries, while 1,123 submissions were made across the Small and Medium Enterprises, Non-Profit Organisations, and Global High Schools categories.

The Review Committee is Chaired by Eng. Al Dhaheri and Vice-Chaired by Dr. Rashed Khalifa Al Shaali, Asst. Professor - Energy Efficiency & Sustainable Architecture, United Arab Emirates University and also includes Mohamed Al Bader, Principal, Mubadala Capital; Moza S. Alnaimi, PhD Student, Engineering Systems and Management, Masdar Institute of Science and Technology; Abdulaziz Al Obaidli, General Manager, Shams Power Company PJSC; Roberto De Diego Arozamena, Chief Executive Officer, Abdul Latif Jameel Energy; Linden Coppell, Head of Environment, Etihad Airways; Sami Khoreibi, CEO, Enviromena Power Systems; Ghislaine Kieffer, Programme Officer - Policy Advice, International Renewable Energy Agency (IRENA); and Dr. Sgouris Sgouridis, Associate Professor, Engineering Systems and Management, Masdar Institute of Science and Technology (MI).