29 Finalists to Contend for 2016 Zayed Future Energy Prize Awards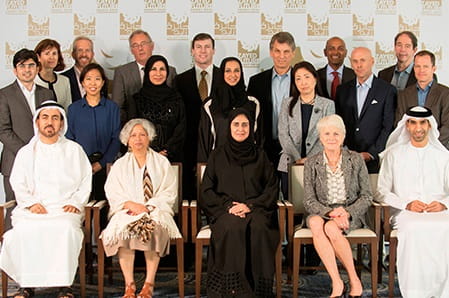 11 October 2015
Share article
Inaugural Global High Schools Committee Underlines Increase in Youth Participation.

Abu Dhabi, UAE, October 11, 2015 – The Zayed Future Energy Prize, the UAE's international awards for energy and sustainability pioneers, selected 29 finalists for the 8th cycle of the prize, following a two-day meeting in Abu Dhabi, October 4th – 5th. The finalists will be scrutinised by the prize's prestigious Jury on October 29th, and the winners will be announced at an awards ceremony on January 18th. The ceremony will take place during the annual Abu Dhabi Sustainability Week, running January 16th – 23rd.

Three finalists in the Large Corporation and the same number in the Small and Medium Enterprise (SME) categories will go before the Jury for consideration. Four finalists will be joining them in the Non-Profit Organisation (NPO) category. The new Global High Schools Committee selected three project proposals by schools from each of the Africa, Americas, Asia and Oceania regions and two from the Europe region for final evaluation in late October. The Selection Committee also put forward five finalists as potential winners of the Lifetime Achievement Award.

The names that have made it to the final evaluation phase from the Large Corporation category are BYD, Iberdrola and Infosys. For Small and Medium Enterprise (SME) one of SMEFunds, Greenlight Planet or Off.Grid:Electric will be announced as the winner at Abu Dhabi Sustainability Week in January. For the Non-Profit Organisation (NPO) category, there are four finalists: Kopernik, SNV Netherlands Development Organisation, SolarAid and Rural Services Foundation.

This was also the first year that the Global High Schools Committee convened. On 4-5 October, the committee agreed upon 14 Global High School finalists. From Africa, Mfantsipim School (Ghana), SOS HG Sheikh Secondary School (Somalia) and Abaarso School of Science and Technology (Somalia) made the finals. From the Americas, Manuel Picasuti High School (Bolivia), Professional Technical High School Juanacatlán (CONALEP131, Mexico) and Institucion Educativa Gabriel Plazas (Columbia) are in contention. The finalists from the Asia region are Mahindra United World College of India, Royal College (Sri Lanka) and Korea Science Academy of KAIST. From Europe, the finalists are Belvedere College (Ireland) and Schuelerforschungszentrum Suedwuerttemberg (Germany). Finally, from the Oceania region, Cashmere High School (New Zealand), Huonville High School (Australia) and Lume Rural Training Center (Vanuatu) will be scrutinised by the Jury.

His Excellency Dr Sultan Ahmed Al Jaber, UAE Minister of State and Director General of the Zayed Future Energy Prize, said: "This has been a record-breaking year for the Zayed Future Energy Prize, which is a testament to the leadership shown by the UAE in seeking long-term solutions that will meet our future climate and energy challenges. This continued growth reinforces the prize's influence in inspiring and rewarding the world's innovators and creating a robust, shared knowledge-economy. To this end, our evaluation process plays a vital role in ensuring that the prize not only continues to empower but is also held in high regard right across the world."

The Zayed Future Energy Prize was established by the UAE leadership in honour of the environmental, social, and economic sustainability advocated by the nation's founding father, Sheikh Zayed bin Sultan Al Nahyan (God bless his soul). His legacy has ensured that over 150 million people have been positively influenced by the winners of the prize, since its inception in 2008.

Selection Committee Chair, Dr. Behjat Al Yousuf, Provost, Masdar Institute of Science and Technology, said: "The standard of entries this year is a clear indication of the predominant place the prize has in rewarding forward-thinking in the world of renewable energy and sustainability. The 33 entries we had to consider, from the record 1,437 submissions and nominations, were of the highest quality, demonstrating clear excellence in impact and leadership. Those that we have chosen to go forward excel in an extremely high-calibre field of entries."

Global High Schools Committee Chair, Dr. Abdulla Ismail Alzarouni, Assistant to the President, Rochester Institute of Technology, added: "Increasingly the Global High Schools category is inspiring the next generation of leaders to think about how they can shape a world that thinks and acts sustainably and will ensure a future with energy access for all. Selecting the 14 finalists in this category out of the 189 submissions in this category was an incredibly difficult task."

In addition to Dr. Al Yousuf, the Selection Committee members are, Vice Chair Marie-José Nadeau, Chair, World Energy Council and Executive Vice President, Corporate Affairs and Secretary General, Hydro-Quebec; Dalya Al Muthanna, President and CEO, GE Gulf; Dr. Thani Al-Zeyoudi, Permanent Representative of the UAE to IRENA and Director of Energy and Climate Change, UAE Ministry of Foreign Affairs; Roger Ballentine, President, Green Strategies, Inc.; Dr. Steven Griffiths, Vice President for Research and Associate Provost, Masdar Institute of Science and Technology (MI); Anup Jacob, Director, Masdar Capital; Richenda Van Leeuwen, Executive Director, Energy and Climate, Energy Access Initiative, United Nations Foundation; Jonathon Porritt, Founder Director, Forum for the Future; Prof. Ad Van Wijk, Sustainable Energy Entrepreneur; David Sandalow, Inaugural Fellow, Columbia University; and Yukari Yamashita, Board Member, The Institute of Energy Economics, Japan.

Alongside Dr. Alzarouni, the Global High Schools Committee includes, Vice Chair Gayatri Raghwa, Outreach Programme Senior Specialist – Education, Environment Agency – Abu Dhabi (EAD); Dr. Fatheya Mahmood Abdulla Al-Ahmadi, Senior Specialist, Science Curriculum and Instruction Material, Abu Dhabi Education Council; Dr. Fozeya Ibrahim Al Mahmoud, Director, Environmental Outreach Division, EAD; Daye Eom, PhD Candidate, Engineering Systems and Management, MI; Dr. Scott Kennedy, Executive Director, Energy Action Partners; Arslan Khalid, Associate Programme Officer, International Renewable Energy Agency; Steven Alexander Culbertson, President and CEO, Youth Service America.