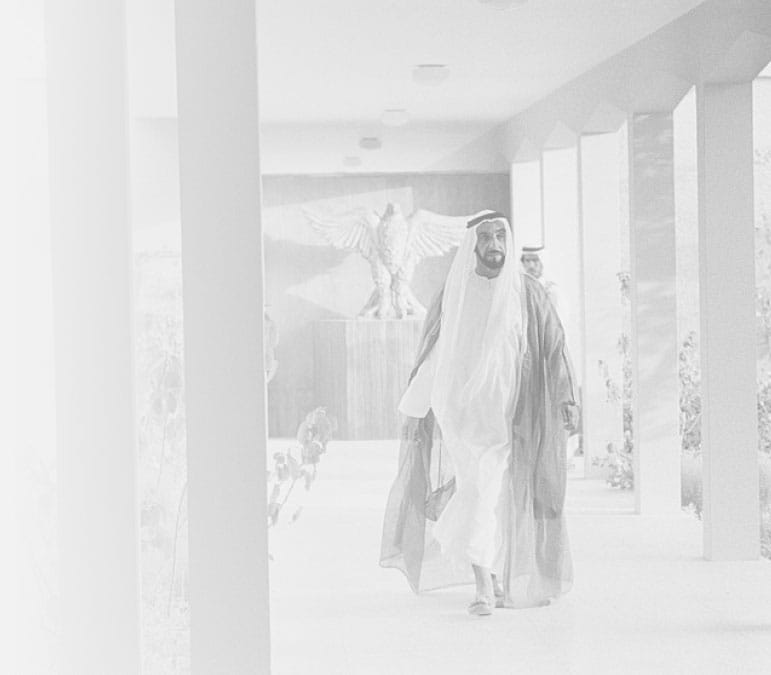 sheikh zayed bin sultan al nahyan
On 2nd November 2004, Sheikh Zayed bin Sultan Al Nahyan, President of the United Arab Emirates and Ruler of the Emirate of Abu Dhabi, passed away. For Emiratis and residents of the UAE, Sheikh Zayed was not merely a national leader, he was a man of great vision and someone who transcended national borders and cultures as a true statesman, widely respected the world over.
In a journey he began over forty years ago, Sheikh Zayed came to embody the values of tolerance, unity and the spirit of a nation – a legacy now infused and represented by the responsibility, camaraderie and collaboration seen among all Emiratis and residents of the UAE.
Sheikh Zayed's vision was driven by a passionate belief in leading by example and this was a key essence behind his progressive socio-economic, sustainable development and humanitarian vision.
Drawing on the valuable lessons of the past, while embracing progress, Sheik Zayed was a passionate believer in the importance of pursuing development in line with both the needs of present and future generations.
legacy
Sheikh Zayed bin Sultan Al Nahyan laid out a vision that would ensure the sustainable development of the UAE.
During his lifetime, Sheikh Zayed placed great emphasis on education and empowerment, including the welfare of the less fortunate – in the UAE and around the world. He was also a tireless advocate of protecting the heritage of the land we live in and implemented a series of measures to protect both the natural world and its resources.
Some key examples of Sheikh Zayed's action in these areas include his creation of official institutions such as the UAE's Federal Environment Agency and Abu Dhabi's Environmental Research and Wildlife Development Agency. Acknowledging the responsibility that governments must assume in conserving the natural world, he also called upon individuals to play their role in ensuring sustainable development.
With all of these attributes considered, it is no surprise that Sheikh Zayed's vision – and now legacy – is an enduring reminder the wise leadership that continues to shape the sustainable development agenda, here in the UAE and around the world, for many future generations to come.
The Zayed Sustainability Prize is honoured and proud to have been formed as an organisation that acts as a custodian of this legacy. We are inspired by it every day as we carry forward and share this vision for global sustainability to an ever-increasing number of people around the world.