Zayed Future Energy Prize Launches Global Outreach Campaign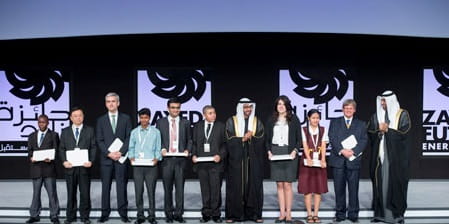 02 April 2014
Share article
Submissions for 2015 Edition Open until July 14, 2014

Abu Dhabi-UAE: April 02, 2014 – Zayed Future Energy Prize, the world's preeminent award for innovation in renewable energy and sustainability, has launched a global outreach campaign to drive awareness and promote submissions for the 2015 edition.

The Prize has appointed outreach partners in key geographies including the United Arab Emirates, the United States, Latin America, Europe and the United Kingdom, Africa, Asia including Japan, China and India as well as Australia and the Pacific Islands, to engage with important stakeholders such as government agencies, members of the media, prominent individuals, corporations and organizations in the clean energy and sustainability industries, academic institutions and high schools.

As part of the campaign, the Prize will kick-start a roadshow in Japan (Tokyo and Kyoto), followed by a participation at the Bloomberg New Energy Finance Summit in New York on 6 April. Similar events and appearances have been planned in various countries across all continents.

Meanwhile, member of the Prize jury and founder and chairman of Virgin Group, Sir Richard Branson and His Excellency Ólafur Ragnar Grímsson, president of the Republic of Iceland and chairman of the jury have filmed compelling 'call to action videos' for the Global High Schools and remaining categories to inspire a higher number of quality submissions to the 2015 Prize. Members of the Prize Selection and Review Committees as well as previous winners have also launched awareness efforts in their respective constituencies and networks.

Dr Sultan Ahmed Al Jaber, Director General of the Zayed Future Energy Prize said: "The outreach campaign provides us the opportunity to connect with important players and key influencers in the renewable energy and sustainability industries – the voices that will carry the message of the Prize far and wide.

"Energy and resource scarcity are global issues and while we received submissions from 88 countries last year, from as far as the Pacific Islands, we still have a lot of ground to cover. Through our extensive outreach efforts, the Prize aims to bring together people, organizations and schools across geographies that share a commitment to finding innovative renewable energy and sustainability solutions."

The Zayed Future Energy Prize is a US$4 million prize awarded annually to companies, schools and individuals that have made significant contributions to the future of energy and sustainability. In six years, the Prize has rewarded 30 innovators and impacted communities across the world.

Submissions for the seventh edition of the Prize are open until 14 July, 2014.