Mission to Select Future Prize Winners Begins in Abu Dhabi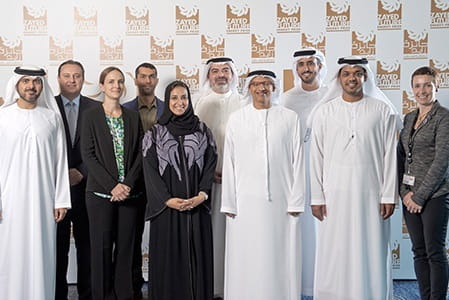 03 September 2015
Share article
Zayed Future Energy Prize enters evaluation phase

Abu Dhabi, UAE, 3 September 2015 – Selection of the winners of the 2016 Zayed Future Energy Prize, the world's preeminent award for innovative contributions to the future of energy and sustainable development, got underway on September 1-2, with the first of three evaluation meetings in Abu Dhabi.

Local and international experts in sustainability, policy, engineering, architecture, academia, energy and technology examined the entries selected in a two-month due diligence appraisal by the prize's research and analysis partner, Bloomberg New Energy Finance. Using the criteria of impact, innovation, leadership and long-term vision, the Prize's Review Committee drew up a shortlist of submissions and nominations.

His Excellency Dr Sultan Ahmed Al Jaber, UAE Minister of State and Director General of the Zayed Future Energy Prize said: "Each year the prize honours our founding father Sheikh Zayed bin Sultan Al Nahyan's legacy of environmental stewardship and sustainability by recognising outstanding individuals and organisations across the world. Our evaluation committees are a valuable and vital part of that process. With continuing growth in the number of entries we receive, the evaluation committees are a critical part of our mission to establish the Zayed Future Energy Prize as the preeminent international prize for renewable energy and sustainability."

During the last seven years, the Zayed Future Energy Prize has been a demonstration of the UAE's commitment to encouraging and rewarding innovation on a global scale. By recognising pioneers in the renewable energy and sustainability sectors, the prize has touched the lives of more than 150 million people through its winners.

The Chair of the Review Committee, Dr Saif Al-Nasseri, Gas Processing Director, Abu Dhabi National Oil Company (ADNOC), commented: "Against a backdrop of international discussions on sustainable development and climate, the Zayed Future Energy Prize demonstrates that the UAE leadership is forward thinking on global issues. The growing importance of the prize is reflected in the record number of entries this year from the largest number of countries in the prize's history. It has proved incredibly challenging to select submissions for the shortlist because so many merit progression to the next stage."

From the 1,437 entries, received from 97 countries, the Prize's Selection Committee will consider 33 submissions, on October 4-5. This includes 23 submissions to the Large Corporation, Small and Medium Enterprise and Non-Governmental Organisation categories and 10 nominations for the Lifetime Achievement Award. In addition, the newly created Global High Schools Committee will consider 49 renewable energy or sustainability-focused project proposals.

Chaired by Dr Al-Nasseri, the Review Committee includes Vice Chair Eng. Rashed Al Dhaheri, Director of the UAE/Egypt Liaison Office, Office of the Minister of State; Mohamed Al Bader, Senior Associate, Masdar; Dr Rashed Khalifa Al Shaali, Assistant Professor – Energy Efficiency and Sustainable Architecture, United Arab Emirates University; Dr Ibrahim M. Babelli, Chief Strategist, King Abdullah City for Atomic and Renewable Energy (K.A.CARE); Linden Coppell, Head of Sustainability, Etihad Airways; Reem Ketait, Energy Analyst, UAE Ministry of Foreign Affairs; Sami Khoreibi, CEO, Enviromena Power Systems; Ghislaine Kieffer, Programme Officer - Policy Advice, International Renewable Energy Agency; Philip Moss, Associate Director, Public-Private Investment in Emerging and Frontier Markets, World Economic Forum; Dr Sgouris Sgouridis, Associate Professor, Engineering Systems and Management, Masdar Institute of Science and Technology.