The Carbon Disclosure Project: Utilising the power of information to reduce global greenhouse emissions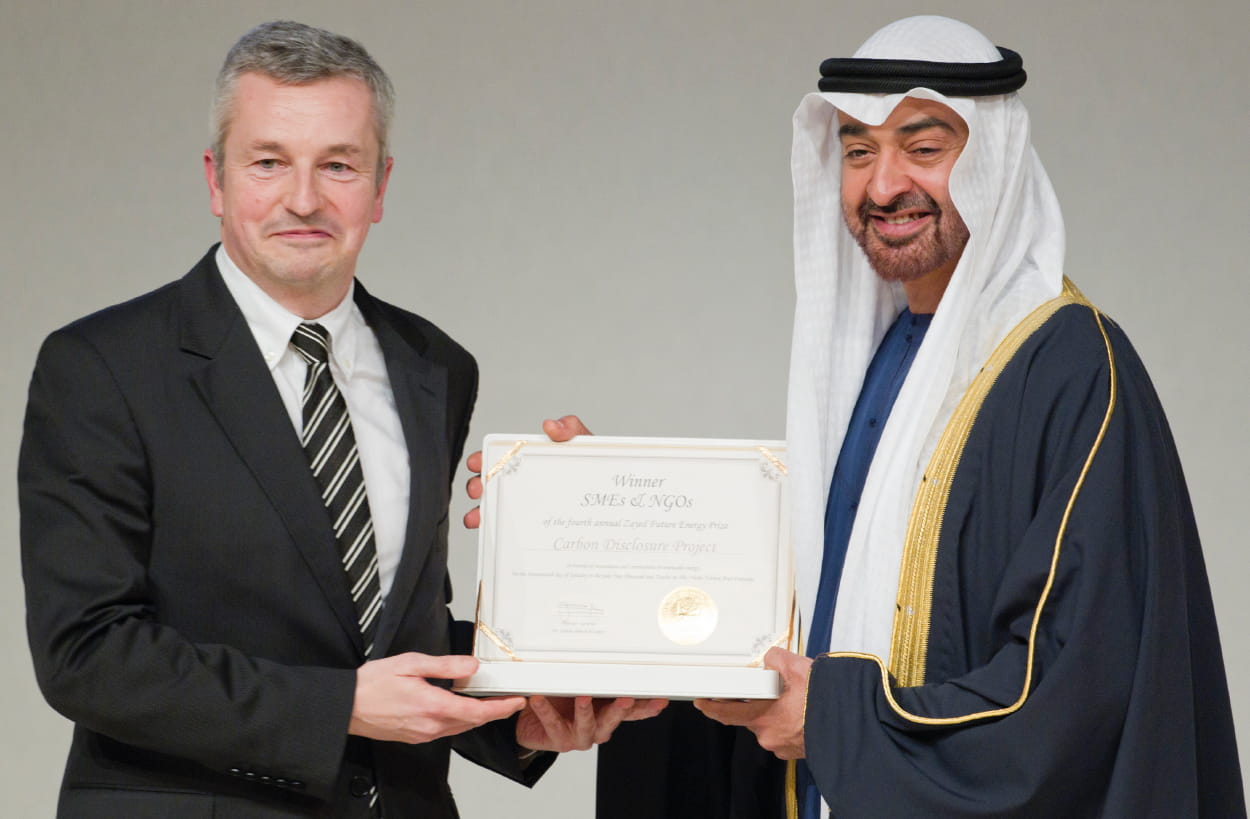 06 October 2021
Share article
In this edition of Winner's Spotlight, we showcase the outstanding market leadership, commendable growth, and impact of the Carbon Disclosure Project (CDP), a leading non-profit organisation specialising in global environmental disclosure and reporting.
2012 Zayed Sustainability Prize winner.
As an independent, non-profit under the Governance Forum of the Sabancı University in Turkey, CDP has been recognised for their outstanding efforts in catalysing the transition to a profitable, low-carbon economy while driving greenhouse gas emission reduction and sustainable water use by businesses and cities. CDP is the holder of the largest global collection of primary climate change, water, and forest risk data that is standardised, consistent and comparable to facilitate this valuable knowledge and to expedite the increasingly alarming climate crisis. The non-profit achieves this by reaching influential decision makers and mitigating associated risks to drive action towards a more sustainable world. This multi-disciplinary approach places the organisation in a unique position with these three key areas being inextricably linked. Furthermore, CDP provides a framework of action for companies to measure and manage their risks, transparently report progress, and commit to proactive restoration of ecosystems.
CDP's 20-year pioneering role in driving corporate disclosure on climate change has led to an expansion into disclosure on water security and deforestation. This disclosure allows the world to see how resources are being extracted and allows companies and governments to take the steps needed for true restorative action.
At the time of the Prize win nearly a decade ago, the non-profit was already working with 722 institutional investors and with assets exceeding USD 87 trillion. Since then, the award has served to strengthen their position in accelerating the systemic change necessary for a sustainable economy and significantly raising CDP's global profile, resulting in enormous growth over the last few years by helping the non-profit scale up its rapidly expanding presence in various parts of the world, supported by its global staff body which exceeds 450, and its ability to customise its solutions per country or region.
On the commercial front, the organisation's reputation amongst the business community grew notably, with more than 9,600 companies sharing vital environmental information with them in 2020, alone. This compares with approximately 3,700 companies in 2011, representing a 160% increase. Moreover, with environmental disclosure increasingly becoming a business norm, 590 investors with USD 110 trillion in assets requested disclosures through CDP last year as well. CDP's work has also inspired more of the world's cities to measure and manage their environmental risks, resulting in over 810 cities reporting to the CDP in 2020, up from 48 in 2011.
The organisation also prides itself in forming various ambitious global partnerships, such as the 'RE100 with The Climate Group', which has over 300 members and drives enough renewable electricity demand to power a medium-sized country.

CDP's bespoke platforms & approach
As a global driver in the fight against climate change, CDP focuses on the efficient allocation of capital to assist in the increasingly urgent fight against climate change and natural resource protection.
According to CDP, net-zero transition requires large amounts of financing, and investors are uniquely equipped to minimise environmental risks and the transition forward. As such, CDP works with investors to ensure environmental data is integrated throughout the whole investment process.
The non-profit highlights how the risks of inaction remain far and wide with global average temperatures already increasing by 1.1°C, therefore, efficiency is absolutely necessary when trying to limit warming to 1.5°C. In short, climate risk equates to financial risk for CDP, with a recent water security report by the US-based Tulane University titled 'A Wave of Change', concluding that the cost of inaction is estimated to be over five times higher than addressing these risks.
Science-based targets to reduce greenhouse emissions
CDP works directly with companies, investors, cities, states, and regions to encourage transparency and drive action in setting science-based targets that reduce emissions. A key example of this is the Supply Chain Programme for example, which helps prominent multi-nationals use their purchasing power to reduce their Scope 3 emissions by asking suppliers to disclose and set emissions targets.
Furthermore, CDP's data is also commonly used in global investment research, products, and ratings, such as STOXX, a Swiss globally integrated index provider, covering the world markets across all asset classes. This transparency has helped global markets improve how they identify the financial impacts of climate change and how they mitigate these risks.
CDP's 'Carbon Action' Initiative
The Carbon Action Initiative, which is part of CDPs Climate Change Programme, was set up as an investor-led initiative, with the aim of accelerating company action in regards to climate change. From 2011 to 2016, Carbon Action brought together an influential group of 329 investors with USD 25 trillion in assets (up from 35 investors with US$6.7 trillion from the project's launch in 2011). The group asked over 1,300 of the world's highest-emitting publicly listed companies to take three specific actions in response to climate change. Of these, over 800 responded and 86% set emissions reductions targets. This resulted in saving 522 million tons of CO2 as the initiative was implemented in 2015.
Today, CDP has influenced over 10,000 entities across the world's largest economies in terms of measurement and disclosure of data related to climate change, water security and deforestation with steady year-on-year growth. In addition, the expansion of the non-profit's Cities Programme has resulted in over 130 state and regional governments now reporting to the CDP from 32 countries, representing over 672 million people and 21% of the global economy.
Commenting on the pressing threats faced by indigenous people when it comes to climate change, CDP highlights how public policies are increasingly recognised as fundamental in ensuring positive results for the climate, communities, and indigenous peoples. The world must go beyond mitigating the impacts of climate change to also maintain biodiversity, promote forest governance, and protect the rights of indigenous groups, as many depend on the health of our environment, therefore, it is crucial that indigenous people are actively involved in this process.
Our newsletter team also asked CDP about the challenges of motivating companies to disclose their environmental and natural resource impacts and take action to reduce them with the advent of the pandemic and global economic slowdown.
In CDP's opinion, economic recovery plans, and how countries cooperate post-pandemic, will put world leaders' net-zero commitments to a real test, and that while the transition to a sustainable economy requires significant investment, the cost of inaction will be far higher.
Despite of the challenges of a global economic slowdown, CDP believes that the market demand for environmental data and transparency on sustainability is growing in pace. For example, the number of disclosing companies was up by 19% from 2019 despite of the pandemic. In addition, given the widespread climate disasters across the world last year, including wildfires in the US and Australia, and flooding across Europe and China, motivation for climate action is higher than ever, because the climate emergency is already here.
In terms of the long-awaited COP26 conference, which according to many, is poised to be one of the most consequential climate events since the negotiation of the Paris Agreement in 2015. We have entered a critical decade for climate action, and an economy transformation is vital. Accordingly, CDP has three key asks for the summit: commitments to 2030 interim targets and long-term goals to make net-zero ambitions a reality; high-quality, mandatory disclosure that is tracked; and the foundations for a sustainable financial system in which capital markets align with the Paris Agreement goals and fund the transition to a net-zero economy.
Looking to the future, CDP plans on strengthening its data collection surveys to include a "full range" of environmental factors. This includes data to track companies' impact on nature and biodiversity — which is the next frontier for sustainable investors, and a key part of CDP's upcoming five-year strategy.