Sheikh Zayed's Legacy Encourages Local Students to Embrace Sustainability as a Lifestyle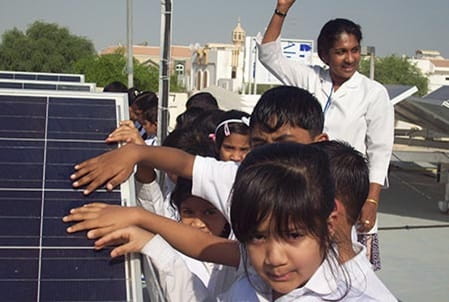 03 فبراير 2016
مشاركة
Zayed Future Energy Prize renews call for submissions to Global High Schools category on 19th National Environment Day.

Abu Dhabi, February 3, 2016 – In support of the UAE's 19th National Environment Day, the Zayed Future Energy Prize that represents the environmental vision of the UAE's founding father Sheikh Zayed bin Sultan al Nahyan, is today calling on local schools to submit a project proposal to the Global High Schools category of the prize's 9th edition.

The Zayed Future Energy Prize is urging students and teachers to work hand-in-hand to submit detailed project proposals on measurable initiatives that promote renewable energy and sustainability in an academic environment. These may include reductions in energy or water consumption or carbon emissions. The winning high school will be eligible for a grant of up to US$100,000 that enables the project's implementation.

Dr Nawal Al-Hosany, Director of the Zayed Future Energy Prize and Director of Sustainability at Masdar, said: "The Prize was established to honour the legacy of our founding father, Sheikh Zayed bin Sultan Al Nahyan (God bless his soul), who championed environmental sustainability. Considering the challenges the UAE faces from climate change, and water and energy security, there is a pressing need for our youth to develop a commitment to advancing renewable energy, environmental stewardship and sustainable development, if we are to successfully meet the genuine challenges our nation will face in future.

"Because we are committed to achieving a sustainable future through actions instead of words, our leadership launched the Global High School's category in 2012 in support of educating future generations about sustainability. We believe it is important to provide incentives for this work."

Abu Dhabi's own Sheikh Khalifa bin Zayed Bangladesh Islamia School was awarded the prize in the Global High Schools category, Asia region, during the category's inaugural year in 2013. The prize funds were allocated to install smart solar panels, which now supply 30% of the school's energy needs, and develop a new passive wind tower cooling system, which is in a pilot stage.

The Global High Schools category seeks to inspire students of ages 11-19 to obtain the knowledge and skills necessary to face critical global energy issues in the future by establishing environmental awareness and sustainability initiatives on high school campuses. Now in its fourth year, the category has empowered youth at 19 schools around the world to incorporate renewable energy and sustainability into their school curricula, daily operations and local communities.

Schools wishing to compete for the prize should enter a submission online at www.ZayedFutureEnergyPrize.com. Submissions will close on June 27, 2016, with the prize presented to winners at an awards ceremony in Abu Dhabi in January 2017.